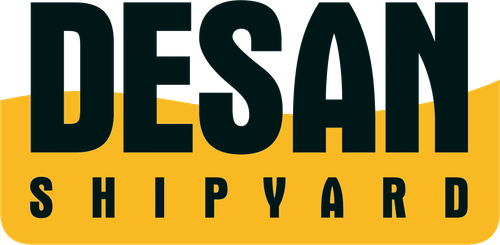 DESAN DENIZ INSAAT A.S.
DESAN Shipyard is part of Kaptanoglu Group one of the oldest maritime companies of Turkey, which has over 100 years of maritime experience.
Our total shipyard area is 60.000 m2 and 7.150 m2 of this is closed area. There are three floating docks of 234m, 177m and 145m lengths and a closed construction hall (136mx40mx36m) with a lifting capacity of 340 tons that are being used for repair and new construction.
Our first Project for Turkish Navy was the construction of 2 Emergency Response and Divers Training Boats that were delivered on 23 August 2020. Boats were delivered 4 months prior to delivery deadline and in this Project we reached %71 for the use of Turkish National resources.
As our latest defence project, DESAN-OZATA Business Partnership recently signed a contract on 29 December 2021, where DESAN Shipyard being the lead partner on the construction of 4 Logistic Support Tankers for the Turkish Navy.
Based on the knowledge and experience from these projects we are proud to announce that we can successfully build ships required by friend and ally countries and deliver them on-time.