23 Sep 2022
Cheap, quick to produce and effective, the Bayraktar TB2 will dominate the MALE UAV market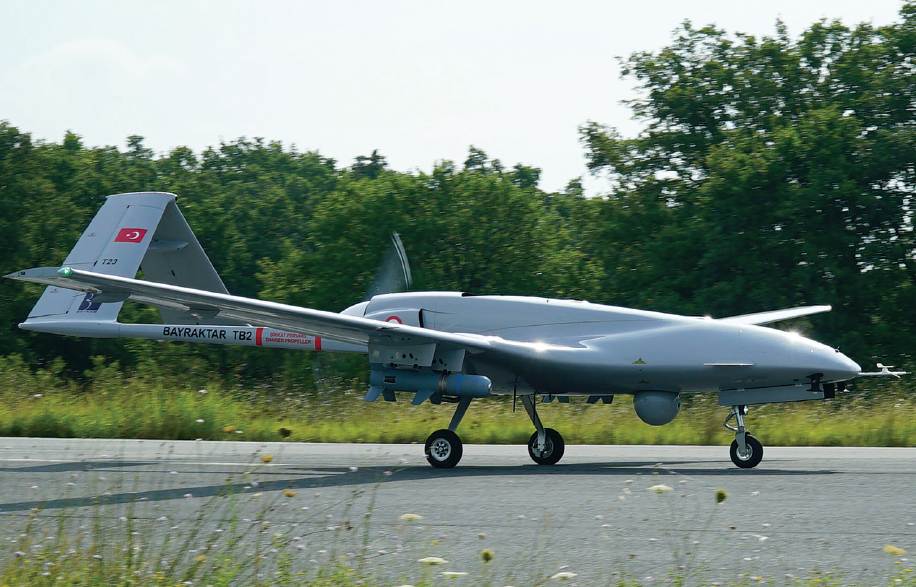 Baykar's Bayraktar TB2 has proven its regional conflict-winning capability at low-cost, with the bulk of future sales predicted in Africa reports Shephard's Military Uncrewed Systems Handbook 2022.
The Bayraktar TB2 UAV has shown that regional conflicts can be decided by a low-cost platform that is quick to produce, underlined by its decisive performance with the Azerbaijani Armed Forces during the second Nagorno-Karabakh war. Its market share rose rapidly, growing 89% to an estimated $2.993 billion in 2021, 5.5% of the $54.35 billion overall market.
According to Shephard Defence Insight data highlighted in their Military Uncrewed Systems Handbook, an average MALE UAV costs $19.11 million, but a country can acquire a bespoke MALE TB2 for 47% ($10.17 million) less than the cost of an average MALE UAV. Even cheaper to acquire and quicker to produce is the MOTS version of the TB2, although users cannot configure these UAVs to their specific needs.
Like many businesses, sales took a hit due to the COVID-19 pandemic, with the number of units funded falling to as low as just 18 in 2020. However, the UAV's performance in the South Caucasus in late 2020 combined with the reducing impacts of COVID-19 on the global economy, revitalised demand, with six contracts being officially awarded in 2021. Contracts placed by Africa, Ethiopia, Kyrgyzstan, Turkmenistan, Ukraine and Poland drove an uptick in sales.
Since most programmes are underway or likely to start in 2022, annual expenditure on the TB2 is currently forecast to decline by more than half in 2024 and remain at a low of $51.60 million in 2025 and 2026. There are indicators that future sales could be on the cards from Latvia, Albania and Ukraine, however most of the TB2's forecast market value comes from Africa.
Shephard anticipates Angola will acquire seven units for $37.7 million, Niger three for $16.1 million, Nigeria 48 for $258.2 million and Rwanda 12 for $64.6 million, adding up to a possible $376.6 million of sales to new African customers. In addition, according to various reports, Morocco is preparing to purchase a second batch of at least six TB2s for an estimated $32.28 million. The appetite for the TB2 in Africa is substantial, with the continent's demand accounting for 61.22% ($408.88 million) of the UAV's forecast market share, representing a growth of 917%.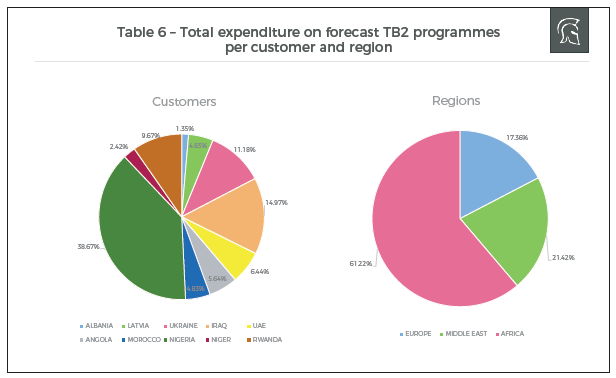 The three forecast European programmes account for only 17.36% ($115.92 million) of the TB2's projected market share. By comparison, forecast African programmes account for 61.22% ($408.88 million) of that market share. (Source: Shephard Defence Insight)
Africa's growing and Europe's declining market share suggests that demand for capable, reasonably priced UAVs will be stronger in developing, non-European, nations in the future. The decline of demand in Europe is due to many nations there favouring programmes that offer some level of domestic industrial participation. Therefore, offering offset work will significantly increase the likelihood of gaining market share in Europe, as has already started in Ukraine.
In summary, partly to its comparatively low unit cost and successful deployment in the 2020 Nagorno-Karabakh conflict, the Bayraktar TB2 dominated the MALE UAV market in 2021, and new contracts in Africa along with offset work in Europe will support its dominance for the coming years.
Source: Matthew Todhunter, UAS Analyst. The Military Uncrewed Systems Handbook 2022 is an industry staple from Shephard. Since 1981 Shephard has led the way in business information in the Defence sector. Shephard helps Identify opportunities with Defence Insight, keep decision-makers in-the-know with News, lead the minds of the industry with our Digital Magazines, and create experts with equipment Handbooks.