27 Mar 2023
How Defence is meeting the UK's new International Technology Strategy vision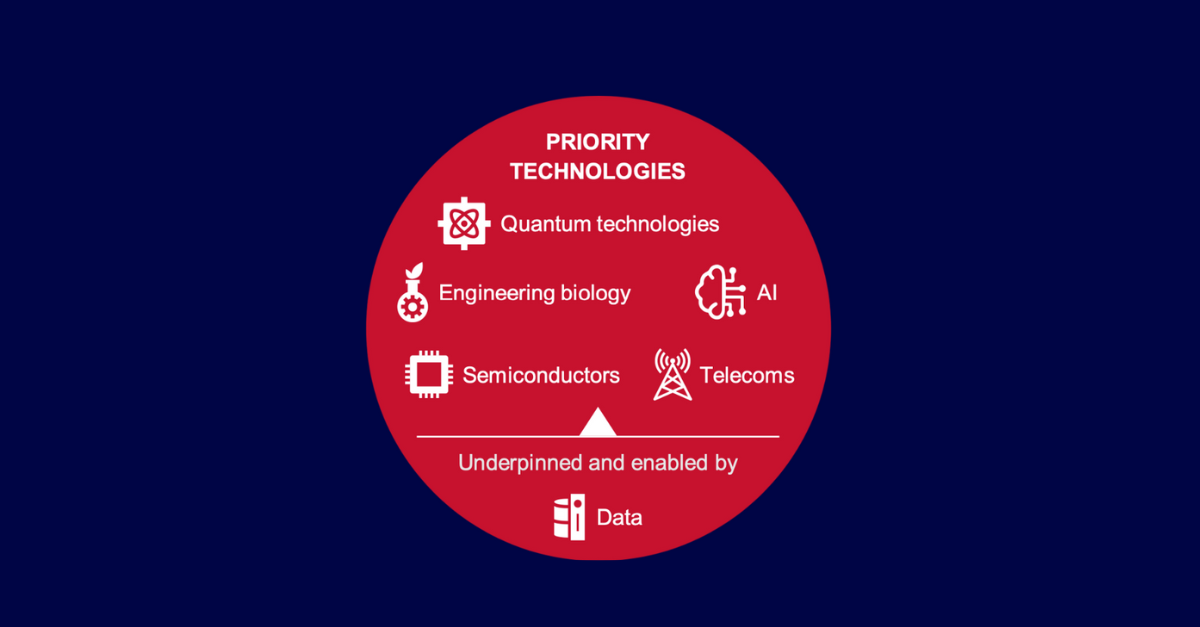 In the wake of the UK Government's latest Integrated Review (IR23), the UK's International Technology Strategy has been released. Defence Engage examines the strategy's six priority technology areas and how they will impact defence, whilst considering those already making headway in these emerging frontiers of disruptive technology. We also take a look at how international partnerships and agreements are contextualising the growth of these industries.
Introduction
The International Technology Strategy (ITS23) is the parent strategy for 10 priority actions which the UK government sees as essential to bringing about a cohesive and global technology approach. It is intended to make the most of the UK's strengths and keep it on track to emerge as a science and technology superpower by 2030.
The priority actions include:
Promote British Technology and collaborations actively in embassies, through Tech-Envoys, a new Technology Centre of Expertise
Help shape global technology regulations in line with the UK's liberal values and 'championing the OECD Global Forum on Technology, building on the success of the UK's Future Tech Forum'
Develop technology solutions to global challenges through FCDO investment in mission-driven Research and Development (R&D) and technology development.
Alongside these priority actions are six priority technologies, all of which are underpinned by collaborative international agreements and regulations. These are: quantum technologies, engineering biology, AI, semiconductors, telecoms and data. Advancements in these areas will be guided by the UK's international principles of openness, responsibility, security and resilience.
1. Quantum technologies
The depth and diversity of quantum technology is expanding at pace, with a multitude of applications. For example, 'quantum sensors also hold great potential for intelligence, surveillance and reconnaissance purposes' according to Investment Monitor. In January the UK's Defence Science and Technology Laboratory (DSTL) collaborated with PA Consulting to construct prototype tools which use quantum principles. The mission was built upon the assumptions that whilst human decision-makers will always be needed, the pace and complexity of data in modern warfare demand more than a human alone can provide.
Other countries have been mirroring efforts to advance quantum capabilities, with Australia convening its Emerging Disruptive Technology Assessment Symposium (EDTAS) to help explore quantum computing's potential. The US is looking into quantum's applications across sectors, whilst the Pentagon has its own quantum development initiatives. The UK, US and Australia will team up on quantum technologies alongside a great many other emerging disruptive technologies as part of the AUKUS pact.
Key quantum priorities in ITS23:
Complete the introduction of the UK's Quantum Strategy
Collaborate with partners towards international goals such as Net Zero
Drive R&D in quantum computing
Lead global governance and assessment of risks and opportunities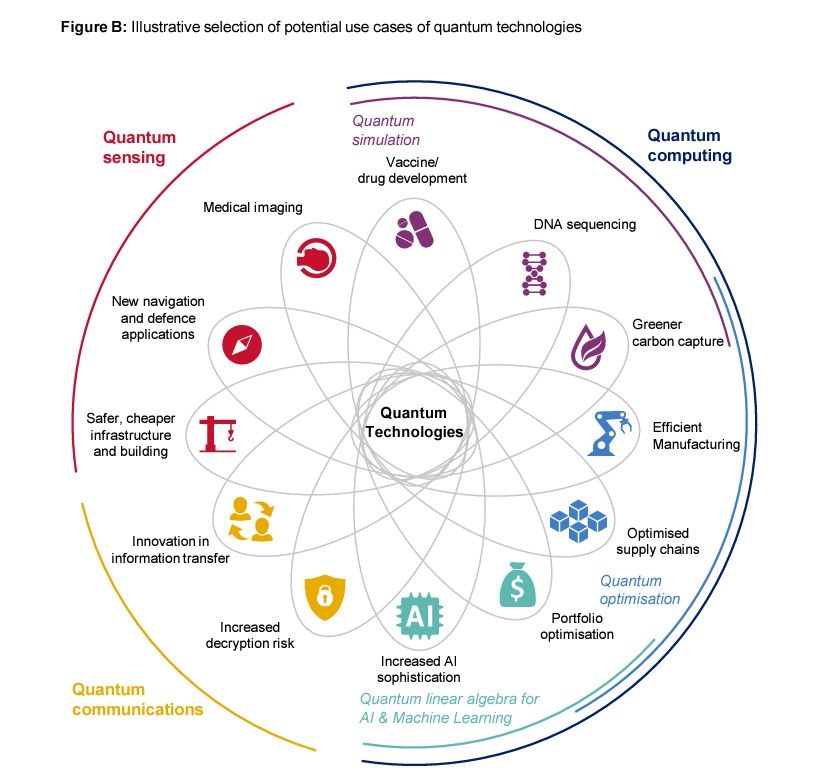 Image source: International Technology Strategy
'To drive further development, the UK is growing our international partnerships in quantum, such as through the UK-US Quantum Statement of Intent signed in 2021'.
NATO has recognised quantum computing as a source of great threat to its members, but also a key area of technological development, where opportunities for collaboration are ripe. 'Adversarial governments are also standing up quantum research programs, spending billions of dollars to gain an edge'. Research into quantum computing will 'have huge implications for complex systems simulations, pharmaceutical development, finance, logistics, machine learning, and decryption'.
In industry, Thales has been preparing for a time when quantum computing might pose a more acute threat to modern security infrastructure. In February, the company successfully piloted 'post-quantum cryptography' using 5G sim cards and their 'Cryptosmart' secure mobile application. Similarly, BAE Systems is 'investigating the disciplines of quantum sensing and quantum encryption, both of which present opportunities for significant operational advantage'.
Smaller suppliers and members of Defence Engage pioneering quantum technology include:
European Engineering & Consultancy build and design quantum computing hardware as part of many large projects.
Fraunhofer CAP develops lasers and optical systems for applications including energy, security, environment, sensing, space, lifesciences and quantum technologies.
KETS is a UK-based technology firm specialising in chip-scale quantum-safe communications with applications in telecommunications, data centres and defence & space.
2. Engineering biology
In recognition of the potential threats posed by synthetic biological technology, the UK Ministry of Defence has been running industry competitions around 'Engineering Biology Collaborative Research and Development' in order to push the boundaries of what can be achieved. Engineering biology includes creating resilient agriculture, sustainable biofuels, chemicals and materials, carbon capture technology and health products.
Key engineering biology priorities in ITS23:
Identify and support scientific collaboration
Lead global ethics debates on the use of engineering biology and synthetic biology products
Commit to the refresh of the UK Biological Security Strategy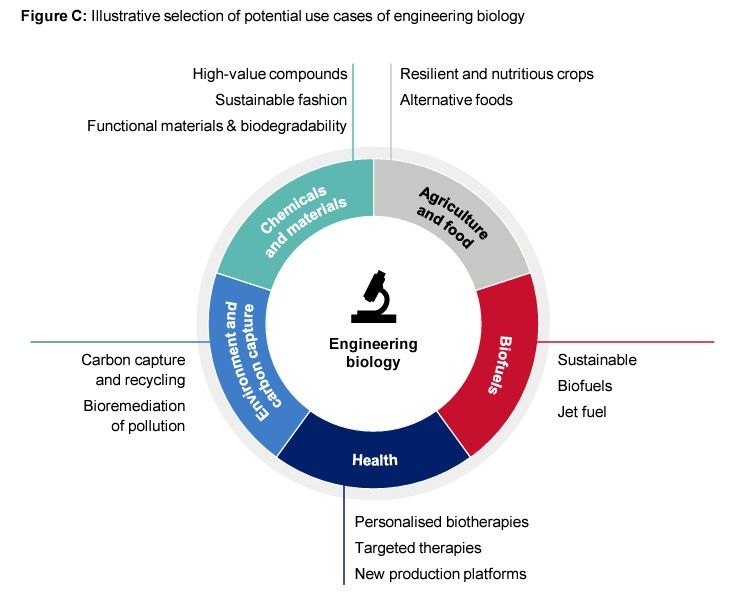 Image source: International Technology Strategy
'Engineering biology is likely to have a transformative impact, driving huge advances in the fields of health, agriculture, energy, environmental protection and materials science, and could be a key enabler in reducing carbon emissions'.
Engineering biology is a somewhat niche field compared with AI, quantum and other technologies, but its importance should not be understated. Currently the UK has a competitive edge in this area, and is considered a priority by the Royal Academy of Engineering. Militaries and governments have long been interested in what the potential threats could be from synthetic biology weapons. This report from MIT Technology Review speaks of the US Military's exploration of the potential threats that could be faced.
3. Artificial Intelligence
The UK is committing increasing funding towards AI initiatives as it seeks to take advantage of increasingly sophisticated machine learning and data-heavy systems. Recently it was unveiled that the UK would spend £900 million on supercomputing technology which is intended to help found the basis of what has thus far been dubbed 'Brit-GPT', the UK's attempt to stay competitive with private sector generative AI projects. In March, the UK also released its guidance to industry on AI for defence, born of the Defence AI Strategy. As the primary AI organisation in defence, 'the UK's Defence Artificial Intelligence Centre (DAIC) champions, enables and innovates the use of AI across Defence to harness its game-changing power for strategic advantage'.
Key AI priorities in ITS23:
Deliver upon the National AI Strategy
Champion the responsible development of AI internationally
Champion non-regulatory standards and techniques, generating best practices
Play a leading role in multilateral organisations regarding AI use and engagement
Build an inclusive international dialogue on AI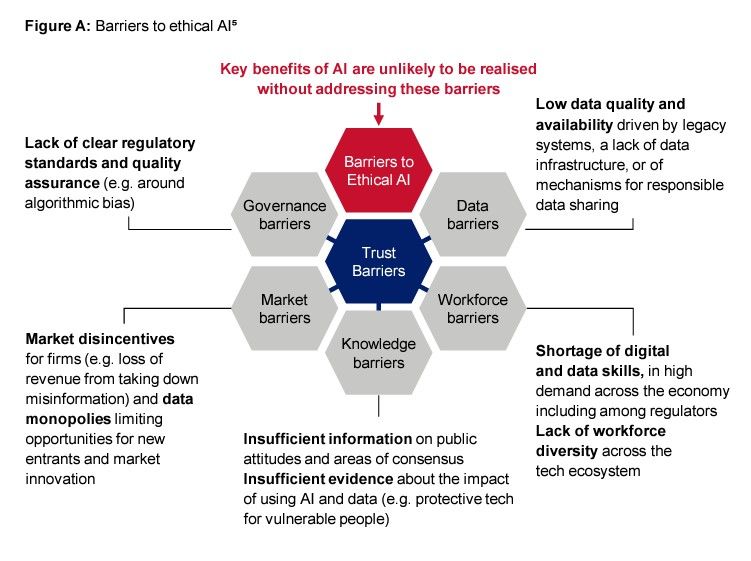 Image source: International Technology Strategy
The UK Strategy is based around the ethical adoption of AI and the responsible use of it, in similar fashion to NATO's guiding principles for the responsible utilisation of emerging technologies. 'NATO's Principles of Responsible Use, approved in October 2021 as part of NATO's first ever AI strategy' provides 'concrete checks and balances, notably in terms of governability, traceability and reliability'. The EU Defence Agency is working in parallel fashion, aiming 'to marshal its Member States' research and development (R&D) in this sector in important ways, from creating a common set of AI references and terminology to pinpointing logical areas for their cross-border collaboration to framing the most important areas of AI for Europe's strategic autonomy'.
'The National AI Strategy builds on the UK's strengths but also represents the start of a step-change for AI in the UK, recognising the power of AI to increase resilience, productivity, growth and innovation across the private and public sectors'.
Defence Engage members doing cutting-edge work with AI include:
MX Reality specialise in developing advanced solutions and platforms using Virtual Reality (VR), Augmented Reality (AR) and Artificial Intelligence (AI).
Lumination are pioneers in the use of advanced immersive technology; Artificial Intelligence (AI), Virtual Reality (VR) and Augmented Reality (AR) that enhances sovereign capabilities.
Innovative Physics provides solutions spanning pattern recognition, Artificial Intelligence, sensor technologies and novel integration/deployment techniques.
Archangel Imaging specialise in advanced artificial intelligence (AI) for cameras and GNSS-denied navigation for manned and unmanned systems.
4. Semiconductors
The UK has a vital strategic interest in the securitisation of semiconductor supply chains and manufacture, as the war in Ukraine teaches us that over-reliance on strategic adversaries is a threat to domestic security. Furthermore, 'Semiconductors are vital to achieving UK strategic advantage in next-generation technological areas such as net zero, quantum, 6G and AI' according to ITS23. In January, it was announced that the UK would subsidise its semiconductor industry in an effort to maintain domestic capabilities and protect production.
Semiconductor priorities in ITS23:
Deliver upon the upcoming UK Semiconductor Strategy
Help embed resilience in international semiconductor supply chains
Deepen international cooperation on R&D to enhance the skills of Academia and Industry
The US has been leading the world in moving away from semiconductor reliance on China with the $54.2 billion CHIPS Act which was signed back in August 2022. Semiconductors are considered one of the US' critical technology areas. The European Chips Act is a similar endeavour, recognising a need to grow market share in the semiconductor industry as the EU represented about 10% of the world's 1 trillion microchips manufactured globally in 2020 alone. Between these two significant semiconductor acts, the UK industry has been somewhat squeezed, awaiting funding and government commitments, with some suggesting that the UK may have missed its chance and companies threatening to move overseas.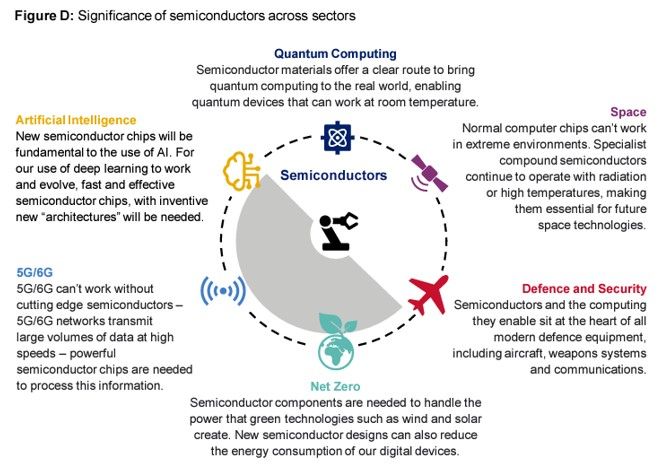 Image source: International Technology Strategy
Back in 2021, amid a global chip shortage, there was controversy around the sale of Britain's biggest semiconductor foundry Newport Wafer Fab (NWF) to Dutch chipmaker Nexperia as it was owned by Chinese technology group Wingtech. The sale was questioned and reviewed by order of the UK government, with many wondering whether the UK had the legislative tools in place to block such purchases. The sale went through, although in 2022 the UK government forced Wingtech to sell its controlling stake in the company, causing further controversy in Beijing.
Defence Engage member, Rochester Electronics is the world's largest continuous distributor of semiconductors and is based in the US.
'There are tens of semiconductors in every mobile phone, ventilator or boiler, and thousands in every car, power station or defence system. Their critical nature has led to semiconductors becoming a geopolitical battleground, with technological dominance in semiconductors key to the technologies of the future'.
5. Telecoms
In late 2022, the United Kingdom signed a multilateral joint statement with Australia, Canada and the US on protecting and ensuring Telecommunications Supplier Diversity. The respective departments of the four nations agreed to commit to 6G collaborations, supplier diversity initiatives and creating interoperable architectures to open up a diverse and innovative market. In telecoms, supplier diversity is particularly important because of the sensitivity of networks and their respective functions, multiple suppliers can help boost resilience across key infrastructure.
Key Telecoms priorities in ITS23:
Demonstrate UK leadership in telecoms, with specific focus on openness and interoperability
Build on the joint statement signed with the US, Australia and Canada
Harness international R&D collaborations
Deepen partnerships with industry and other nations
Create telecoms standards and lead on global governance
Whilst working with international partners and industry to develop resilience in telecoms, the UK interacts with organisations such as NATO's Communications and Information Agency, which hopes to protect over one billion citizens and member militaries by defending their telecoms and cyber infrastructure.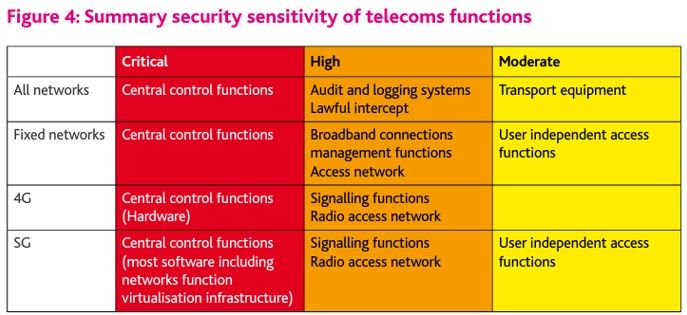 Image source: UK Telecoms Supply Chain Review 2018
'Telecommunications is a key aspect of Critical National Infrastructure. As 5G is rolled out and future technologies are developed, we must secure UK access to the global market and ensure a diverse range of vendors to supply UK networks'.
Defence Engage members leading the way in Telecoms:
Metamaterial Technologies' technology platform enables leading global brands to deliver breakthrough products to their customers in consumer electronics, 5G communications, health and wellness, aerospace, automotive, and clean energy.
Blu Wireless's IEEE 5G broadband networking equipment provides robust and covert LPI/LPD gigabit edge processing for communication networking across IoT for the military.
Armour Communications is a UK based company supplying market leading technology for secure communication via 3/4/5G, Wi-Fi and satellite for voice, video, messaging and data on Android, iOS, Windows, Linux and macOS platforms.
6. Data
Data underpins all of the previously mentioned technology areas in ITS23, yet investments and innovations in data collection, storage and management are crucial to national and international security. The ITS23 suggests that the UK seeks collaborations with industry and international partners on Data, citing a strong proposition including 'data [that] can be used to drive innovation, the economy, governmental cooperation and trade without compromising safety, security or privacy'.
In Australia's Defence Data Strategy 2021-2023, there are 5 pillars: 'govern, trust, discover, use and share' which are intended to 'guide data management across the organisation and will enable Defence to use data more effectively as circumstances change'. Meanwhile, the US DOD Data Strategy aims to work with similar principles to those of the UK and Australia: 'The DoD Data Strategy supports the National Defense Strategy and Digital Modernization by providing the overarching vision, focus areas, guiding principles, essential capabilities, and goals necessary to transform the Department into a data-centric enterprise'.
Key priorities for Data in ITS23:
Legislate to reform the UK's data protection regime
Promote innovation, especially with priority partners
Work to boost privacy enhancing technologies
Seek data use and compliance agreements in free trade deals
Help shape the global interoperability of data regulation frameworks
In December 2020, the UK unveiled its National Data Strategy which includes four key pillars: strong data foundations, a country with next-generation data skills, data accessibility and responsible data management and collection.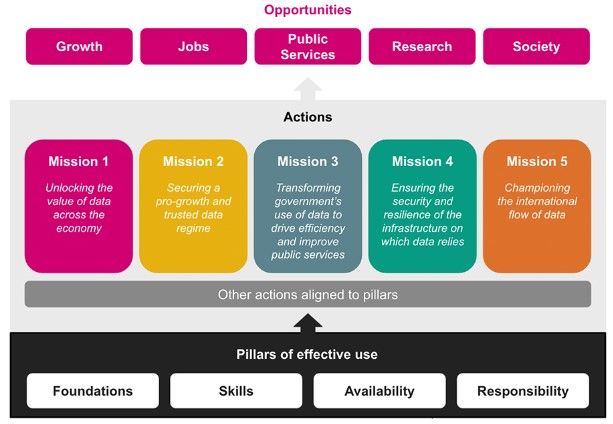 Image source: National Data Strategy (2020)
Primes in the defence sector invest heavily in data programs, whether creating more sophisticated data analytics or cyber security systems to help protect data against progressively agile threats. BAE Systems' Digital Intelligence division, Boeing's Digital Solutions and Analytics, and Airbus' Advanced Analytics are all examples of how major players are building data into the future of their defence portfolios. Data is increasingly important to the operation of the British economy and on the battlefield, as sensors, satellites and online intelligence feeds more and more information to decision-makers.
'The ability to transfer data across borders is critical for accessing overseas markets, and high standards of data protection are key to building public trust and confidence in how data is used'.
While the government has only just published the UK's International Technology Strategy in the past week, it is clear that the Defence industry is already set to meet the technology strategies, with the infrastructure and programmes of larger industry players in place to take the lead, and the innovation of smaller suppliers underway to lend competitive advantage.
We support knowledge development to help SMEs navigate the Defence sector. This includes industry trends, insights, developments and guides to doing business in Defence.
DISCOVER DEFENCE ENGAGE APPLY FOR A PROFILE DEFENCE CONTRACT DIGEST FOLLOW US ON LINKEDIN