15 May 2023
Electronic Warfare market set to grow as threats shift and multiply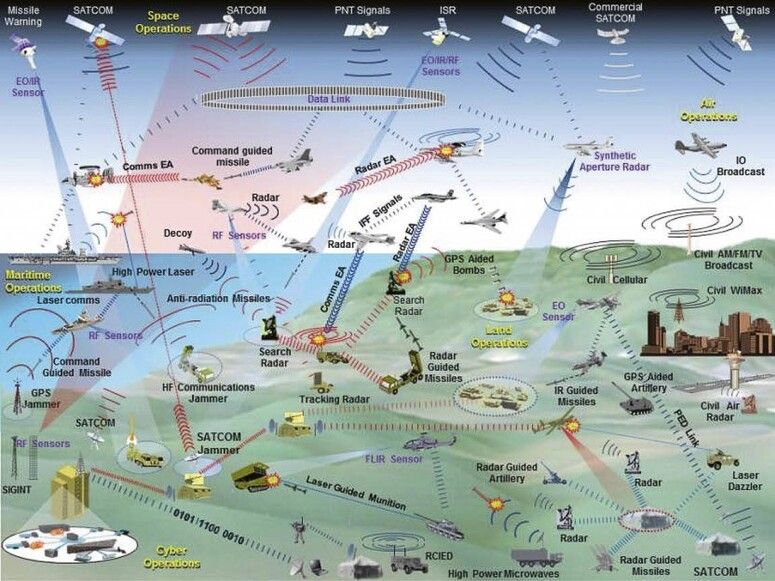 In 2022 the Electronic Warfare (EW) market was valued at around $18.5 billion. Projections have EW on course to hit $23.2 billion by 2027, a compound annual growth rate of 4.7%. Ahead of AOC 2023, the flagship international event for EW and information-related capabilities, Defence Engage unveils the key market trends and the EW suppliers who are set to make waves.
Catalysts for EW market growth
The key catalysts for growth in the EW market are the integration of electronics to military hardware and, technology aiding the development of multi-layered defensive systems. The rise of UAVs and satellite-based global positioning systems (GPS), and in particular the need for surveillance and communication jamming, are some of the defence demands that are advancing EW. EW can be applied in all operational domains – air, land, maritime, space and cyber – so can play a central to the increased multi-domain integration nations are seeking. NATO sums up its interests in EW ranging from attacks on radar systems, to jamming of communications and navigation systems, to electronic masking, probing, reconnaissance and intelligence gathering. It is therefore vital that NATO remains ready and able to counter any potential adversary's use of EW.
Threats to the West have included China hacking information, intelligence and jamming electronic warfare systems to steal data, Russia undertaking digital espionage to skew election results, as well as Iran and North Korea hacking international finance networks. EW can help protect national security and digital infrastructure as well as playing a lead part in more traditional warfare. Armies, navies, air forces, space and cyber commands have been integrating EW solutions into their operational models for some time now. The British Army's future soldier programme has specifically sought EW capabilities to help intercept, disrupt and deny electronic signals, as personnel work closely with cyber specialists to confuse enemy communications and targeting abilities. The US Navy follows a similar set of ambitions for EW, namely to exploit, deceive and deny enemy use of the electromagnetic spectrum (EMS). Every front-line user looks to be equipped for the technologically advanced, power-dense battlefield of the future.
Key trends in electronic warfare
The three key pillars of EW: support, protect and attack, span the full electromagnetic (EM) spectrum – radio waves, microwaves, millimeter waves, infrared, visible light, ultraviolet light, and gamma rays. Though EW's purpose is to sense, block and respond to attacks electronically, electronic warfare and cyber warfare now overlap so frequently that the future of EW in many countries is certain to involve a full integration of the two. The trends in EW touch a number of different areas within defence which will be addressed at AOC 2023:
The use of satellites is transforming the manner in which we think about electronic warfare. These satellites, designed to locate, recognise, and follow objects in space, can identify enemy activity and give a way to react promptly and efficiently. Equipped with cutting-edge sensors, defence satellites can discover and react to electromagnetic signals. This enables a prompt and precise response to threats, as well as the identification of hostile communications, radar, and other electronic warfare systems.
Situational and threat analyses
EW systems can maximise threat awareness in complex and dense electronic battlespace environments, and the rapid increase of EW capabilities is pushing threat detection and analysis to keep pace. As threats can evolve more quickly than the time it takes to build countermeasures, this has inevitably led to the integration of machine learning (ML) and artificial intelligence (AI) such as AI-STAP (space-time adaptive processing to counter jamming, and AI-based CEW (cognitive electronic warfare).
Multi-domain systems' test and evaluation
Domain-integrated test and evaluation leans on AI, machine learning and big data with clear impact on EW requirements. The UK Ministry of Defence (MOD) recognises in its Defence AI Strategy a need to keep pace with adversaries who are 'prioritising AI R&D in areas such as Command and Control, Electronic Warfare, Cyber, and uncrewed systems in all domains'.
Cyber domain integration with EW systems is essential for future warfare. Lockheed Martin's focus upon 'spectrum convergence' is one example of how defence is rising to the challenge by bringing EMS capabilities alongside cyber, intelligence and information operations. Cyber operations can be used to attack or defend against EW systems. By combining these capabilities, military forces can launch more effective offensive and defensive operations.
There are a range of factors influencing changes in requirements: speed of technological change, the increasing integration and proliferation of EMS-enabled capabilities, low-cost electronics including repurposing of easily accessible commercial devices, plus heavy investment from adversaries. L3Harris points to the need for investment in R&D to forecast future requirements, while BAE Systems urges a modular approach to respond to what can be as yet unknown functions.
The push towards digital has in turn pushed the electromagnetic spectrum to become a major battle domain in its own right, and influence future force design. This includes the skills needed for EW. Leonardo for example has been leading EWS training and capability awareness through their multi-stage realistic programmes, which feature a range of realistic scenarios that trainees can navigate to test their abilities.
As EW assists threat detection and countermeasure, so too does it increase air survivability. Thales is one of the industry leaders that recognise how EW can be 'the cornerstone of platform survivability'. The variety of threats encountered on a military operation present a formidable challenge to the onboard systems that ensure platform survivability, especially now that helicopters are designed to fly multiple types of missions in a whole range of different deployment scenarios.
SMEs in the electronic warfare arena
At AOC 2023, Defence Engage members will be showcasing their solutions for EW: Advai will be showcasing their easy-to-use, intuitive AI solutions; Steatite will be demonstrating their technologies designed for the harshest of environments, including power, communications, antennas, imaging and computing solutions. As a world leader in the supply of microwave and radio frequency (RF) products, TMD Technologies shall be demonstrating their EW and communication solutions for radar. WORK Microwave, also specialists in RF, shall be showing off their products in satellite communications, defence electronics, navigation simulation and sensors, and measurement.
The high-pace development of EW technology and investment means there are plenty of opportunities for industry to address current and future threats across the electromagnetic spectrum. Whether operating on land, air, sea, space, or cyber, digitisation of the battlefield is fuelling the complexity and need for EW solutions.
Check out the full agenda of AOC here.

UDT and Defence Engage are brought to you by Clarion Defence and Security, part of Clarion Events.