28 Feb 2023
What will NATO's DIANA mean for SMEs?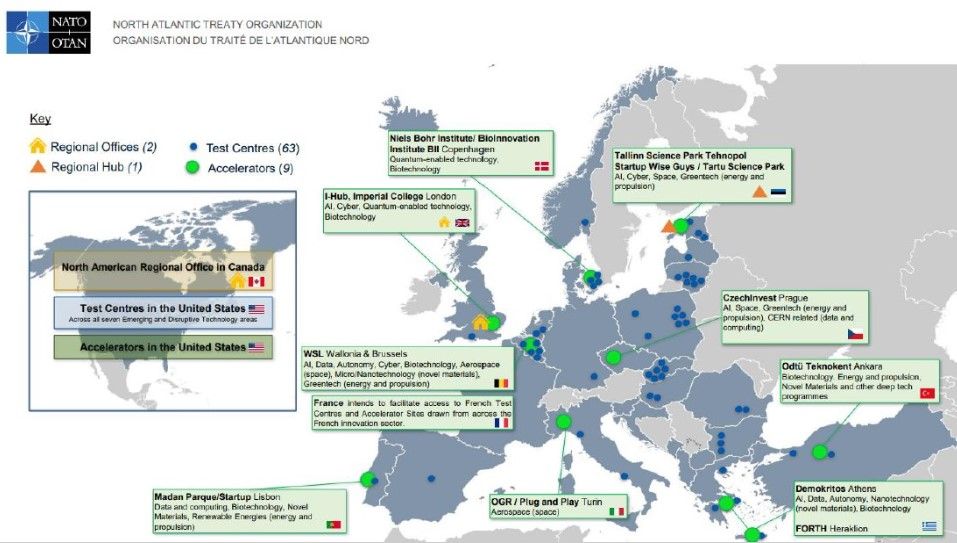 DIANA, NATO's defence accelerator, will prioritise commercial success, problem-solving and the development of bolstered industrial eco-systems. SMEs will benefit from greater mentorship and networking opportunities as DIANA continues to grow. It will be military-led and built around NATO's NICE process (networking, incentives, challenges (R&D) and exploitation).
At an industry briefing on February 20th 2023, DASA's Dr Tony Collins outlined the structure and aims of DIANA, alongside the advantages for SMEs, start-ups and the alliance. Defence Engage has broken this down to help clarify exactly what DIANA will mean for SMEs.
Introduction to NATO's DIANA
In 2021, NATO members set out to establish DIANA, the Defence Innovation Accelerator for the North Atlantic. Its stated goal was to 'enhance and accelerate trans-Atlantic cooperation on critical technologies, and help NATO work more closely with private-sector entities, academia and other non-governmental entities' – US Department of Defense. NATO must maintain a competitive edge over potential adversaries, especially in the domain of Emerging Disruptive Technologies (EDTs).
This intervention from NATO comes as individual states have sought to develop their own approaches to innovation, creating some research and development duplication. NATO will bring money, expertise and a new focus on critical areas of competition, alongside a series of multinational opportunities for SMEs, start-ups, investors, academics, MODs and the wider alliance.
Fast forward to 2023 and DIANA has entered a piloting phase, where national accelerator and innovation sites have been absorbed into the DIANA programme, whilst continuing to be of service to their respective governments. The initiative currently boasts 9 accelerator units, 63 test centres and 2 regional offices and 1 regional hub, across 30 countries. The North American regional office will be in Canada and the European regional office will be in London, with a regional hub in Tallinn with particular cyber and networking specialisms.
As the initiative is still in its infancy, NATO is adapting and consulting with industry on how best to execute its 15-year vision for DIANA. As Dr Tony Collins from the UK's MOD put it "we are building the plane as we are flying it."
How will DIANA work?
DIANA is a multi-national initiative to accelerate the research, development and deployment of advanced technologies, for defensive use by members of NATO and also for dual-use purposes. The structure of the organisation is a blend including NATO's top-down board, which constructs a big-picture analysis of priority technological needs, and the bottom-up industrial innovations of SMEs, start-ups and other industry partners. Countries within NATO can offer sites to DIANA and these sites may become test centres, accelerator units or offices.
DIANA is not entirely different from national accelerator units, such as the UK's DASA. The difference with DIANA is that it allows companies from any member country to attend accelerator units in any other member country, not just their own. This will bring many opportunities, as an SME based in Northern England could attend an innovation challenge in Paris or Tallinn, if there is no relevant challenge for that company on home soil. DIANA will bring more money to accelerator units, more innovation challenges to test centres and more cohorts of pioneering SMEs to defence.
Cohorts of SMEs will be tasked with individual innovation challenges, after being shortlisted for their specialism in the challenge area. The challenges will emerge from the regional offices, which are tasked with developing a challenge which will yield the solutions in relation to the NATO board's priority EDT areas. For 2023, these areas are:
Energy resilience
Secure information sharing
Sensing and surveillance
One of the key aims of the programme is to draw in companies which are not traditionally defence-orientated and allow them to get in front of procurement organisations, prime contractors and competitors, in subsidised and specially designed test environments.
What's up for grabs?
The initiative will take successful companies on a journey, starting with the accelerator units and then moving on to test centres. If companies can produce a product which fits the needs of front-line users, NATO will help them make sure their product is commercially viable and ripe for procurement. After test centres, which will expose the companies to a host of contacts and opportunities, they may get the chance to win part of NATO's innovation fund and a place in the allied capital community, before being catapulted through the rapid adoption service.
The budgets and funds which may be allocated are still being drawn up, but it is estimated that the fund will give access to between €1billion and $1 billion. The allied capital community is a group of approved, contractors which have been vetted for any malign influence or interference.
There are grants to cover expenses, mentorship, test opportunities (usually of great expense to SMEs), investment connections and greater visibility across 30 NATO markets.
The rapid adoption service will accelerate the development of innovations and bring them to the stage of commercial readiness. This has been designed with SMEs as well as procurement organisations in mind, as cash-strapped SMEs often go out of business on the long march from development to winning contracts.
How can SMEs take advantage of DIANA?
The exact process is still being developed, however, it is likely the regional offices will have individual websites, showcasing the challenge dates available. There will be online application forms and a way for companies to pitch their capabilities prior to shortlisting.
To be in with a chance of being shortlisted, SMEs will need to make sure they tick the following boxes:
Are you capable of providing a high-level response to the technological challenge?
Is the solution operationally applicable?
Is your product technically feasible?
Is the product commercially viable, or could it be?
Does it have transformational potential?
Overall Technical Readiness Level (TRL) requirements have not been decided upon, and it is likely that this will vary for each challenge.
When successfully shortlisted as part of an SME cohort, a company can demonstrate the skills which will allow them to build better connections in defence.
DIANA in the United Kingdom
The UK has offered its Dorset Science Park facility, 'BattleLab', to NATO as the first UK accelerator site with localised testing centres, various military hubs in close proximity and a variety of closed environments which have been securely tailored to the development of EDTs.
As with other sites, BattleLab will become a fully-fledged DIANA centre, with its competitions and challenges being set from Europe's regional office in White City, London (in partnership with Imperial College's iHub). White City will set the briefs based on the areas of focus set by the NATO board. DASA will coordinate with NATO to bring these to life, alongside running its own initiatives.
Upcoming developments to look out for
DIANA will grow and change as NATO continues to consult with MODs and industry regarding how best to operate the initiative. There will likely be changes following the pilot challenges which will commence at a later point in the year. Funding announcements and detail surrounding the exact application process will be unveiled alongside prospective new test and accelerator sites. Industry partners should keep an eye on the DIANA website for updates and notifications about upcoming innovation challenges.
Defence Engage helps innovative SMEs improve their discoverability in the defence market, with a host of innovative SMEs and start-ups already on-board. Apply for a profile below!
DISCOVER DEFENCE ENGAGE APPLY FOR A PROFILE DEFENCE CONTRACT DIGEST FOLLOW US ON LINKEDIN