05 May 2023
Submerged solutions: uncovering the next generation of military underwater technology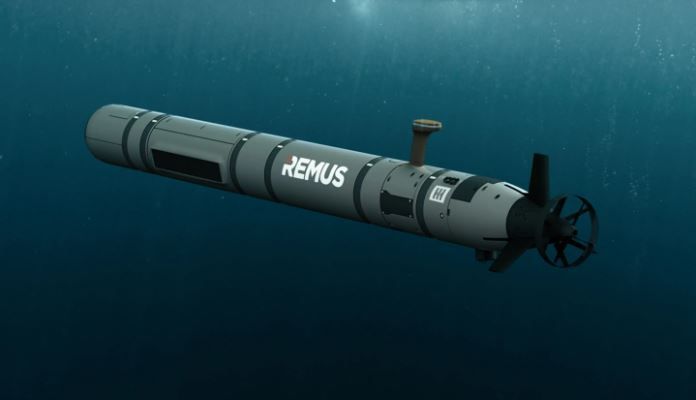 In the midst of AUKUS, the most high-profile undersea agreement of our time, we explore how surveillance, drone technology and navigation solutions are changing the importance of the underwater realm, ahead of UDT 2023 in Rostock (9-11 May).
Undersea technology has been advancing rapidly in recent years, with submarine, drone and AI technologies acting as stimulators for new undersea capabilities, and the global market set to reach $16.97 billion in 2023, up 7.8% from 2022. Estimates have the industry heading for a $21.07 billion valuation by 2027, according to Report Linker.
Drivers for growth
Infrastructure vulnerabilities
With much of modern life reliant upon undersea cables, pipelines and tunnels, defence of the seas and the infrastructure there has become ever more critical. Recently vulnerabilities to undersea infrastructure have hit the headlines, such as the sabotage of the Nord Stream gas pipelines in international waters in 2022, and in the same year it was widely reported that Russia may be tapping into undersea cables off the coast of Ireland. Indeed a former Royal Navy chief warned that UK undersea cables worth £7.4 trillion a day are under 'real threat' from Russia. In the past five years, submarine cables connecting Taiwan to the Matsu Islands have been cut 25 times, including four times last year. This coincides with tensions escalating between China and Taiwan and the activities of Chinese ships in the region, stirring suspicion on the causes of disruption to critical infrastructure. Increased threats require new solutions to help monitor, maintain and protect these vital, high-speed links.
Wars and fear of conflicts
Wars and the fear of future conflicts are propelling the growth of the undersea warfare systems market. China reportedly has an estimated 16 nuclear-powered submarines in service, with more under construction. These submarines may not match the latest technical standards set by the US, Britain, France, and Russia, but the technological gap between Chinese and US undersea warfare technologies is shrinking, driving Western allies to rally. Earlier this year it was announced that that the partnership between Australia, UK and the US (AUKUS) has defined a path forward on Canberra acquiring conventionally armed, nuclear-powered submarines, in a significant moment for the future of the Indo-Pacific region. Submarine technology is one of the few areas where the Russians have a large technological edge over the Chinese, and in a counter to the AUKUS pact it is possible Putin could offer technical support to the PLAN submarine programme.
Emerging technologies
Emerging technologies can provide great growth and opportunity, such as enhancing the endurance of non-nuclear undersea platforms, but they are also posing a threat to current dominating powers. For example, whilst the US has some of the quietest submarines, new detection techniques do not rely on the noise a submarine makes which could make traditional manned submarine operations far riskier in the future. AI sensing technology or underwater drone swarms could be the new antisubmarine capabilities. Rose Gottemoeller, former deputy secretary general of NATO, warns that "the stealth of submarines will be difficult to sustain, as sensing of all kinds, in multiple spectra, in and out of the water becomes more ubiquitous." Nuclear deterrence, and even world peace, could rest on submarines' ability to hide which is at risk from emerging technology. Going forward, interference from civilian technology could prove increasingly problematic, with commercial satellites able to detect submarines, or even commercial fishing disrupting underwater sensors.
A more immediate challenge is the speed of emerging technology development which could prove to be a significant problem if it outpaces the capability development and supply of submarines which take decades to deliver.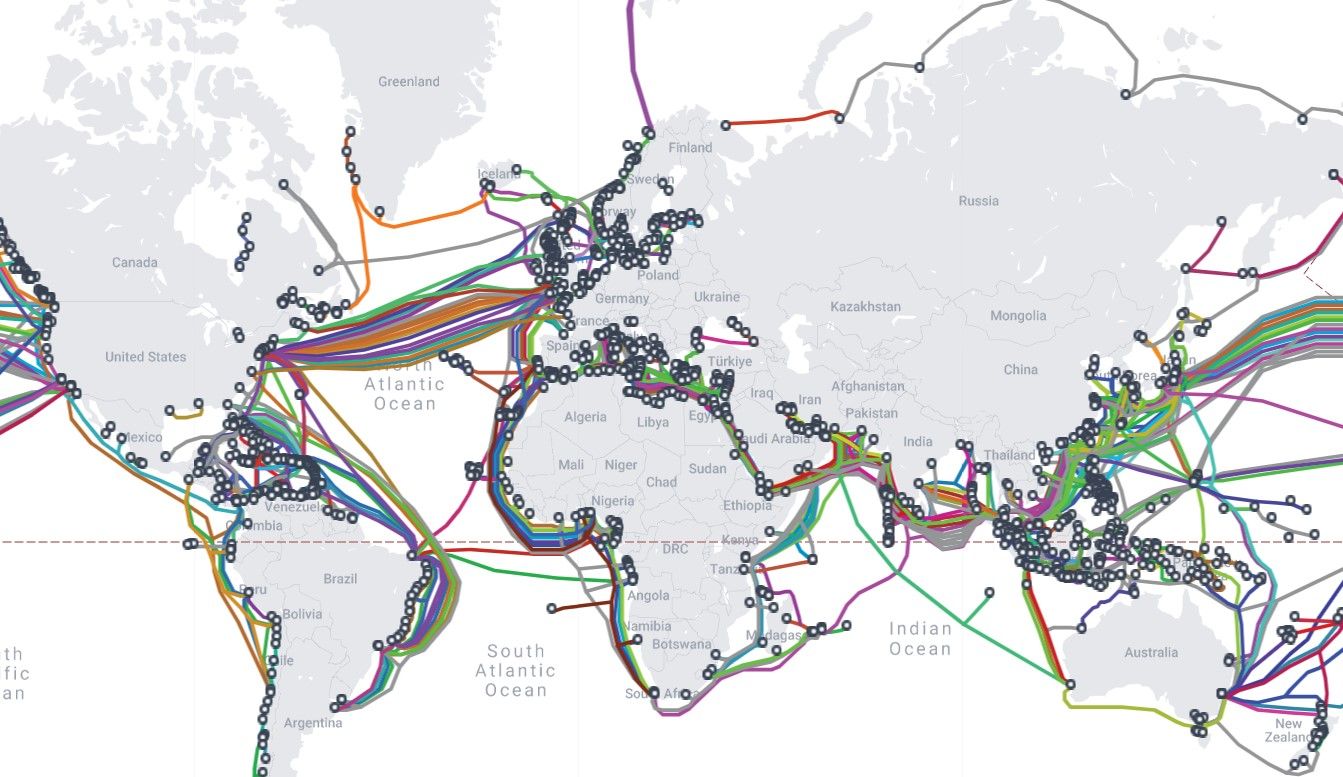 Image: Global undersea cables. Source: TeleGeography
Trends in undersea technology
On the 9th-11th May 2023 at Rostock, Germany, the undersea defence community will be gathering at UDT, the largest global event dedicated to the undersea defence sector. As part of the conference agenda, six key industry trends will be addressed:
Platform Design
Advancements in power generation and storage are giving significant increases in the endurance, speed, and capability of unmanned vehicles and systems. Not only will this impact operational and tactical employment of undersea capabilities, but it will shape the future design of undersea systems. Advanced battery and fuel cell technology are expected to be key drivers of growth in undersea warfare. Other developments in platform design will increase survivability, reduce crew numbers and increase adaptability.
Sensors and Processing
Sonar and acoustic sensors dominate, but sensors in airborne detection systems can be used to effectively counter the threat from submarines, and AI and Big Data are set to revolutionise how to detect and target submarines. With the acceleration of emerging technology being applied, the global Submarine Sensors market was valued at $2.1 billion in 2019 yet is expected to reach $2.6 billion million by the end of 2026, growing at a CAGR of 3.4% during 2021-2026.
Weapons and Countermeasures
Torpedoes, proportional weapons, underwater-to-surface (or air) weapons and surface-to-underwater weapons as well as countermeasures are a staple in undersea technology. Growth will come from increased integration of under-sea weapons to defend the growing territorial in-stabilities. Another area of development is the introduction of heavy-weight torpedoes capable of tracking and destroying underwater targets.
Un-crewed, Remotely Piloted and Autonomous Systems
Small, relatively inexpensive, and available, UUV/AUVs have taken off, though XL is a new breed of UUV intended to run for months at a time, unsupervised and holding much larger payloads than traditional UUVs. The Australian Navy is particularly pursuing this trend. Surveillance and mine-hunting are particular advantages of UUVs, though the energy systems to power them are another trending topic.
Operational Drivers and Imperatives
Strategic and operational concepts are evolving, such as the design and employment of submarines, ASW, Shallow water MCM, Diving and MCM platforms. This can include the utility of Modelling & Simulation across the lifecycle, including concepts and war-gaming on future underwater warfare. Networked operations, reliability and resilience for military use, decision support technologies, communications and air-water interface are all areas of importance.
Big data, artificial intelligence, and machine learning
Big Data and AI are continuing to play a significant role in improving surveillance, detection, and human performance. Machine Learning in acoustics, for example, or improved Signals Intelligence or analysis of the underwater environment can all lead to beneficial new approaches. AI and machine-learning algorithms can make undersea travel more efficient without the need for traditional satellite-aided navigation. For example, a drone could learn to navigate an environment more efficiently, finding the most optimal path to its destination while minimizing energy usage and avoiding obstacles.
Solutions born from new ambitions beneath the seas
The US Naval Institute notes improvements in autonomy, customisability, machine learning, nano-technology, 3D printing and communications as key factors in the 'growing transparency' of the seven seas. In the South China Sea, increasingly sophisticated submarine devices are being deployed by a variety of nations anticipating a future conflict, whether these are drones, next-generation nuclear-powered submarines or networks of 3D-printed sensors.
Unmanned Underwater Vehicles (UUVs) can help minimise risk in the dangerous process of removing at-sea ordnance, which remain a threat. Mine-hunting and minelaying operations are another source of demand for increasingly sophisticated underwater innovations. Underwater drones can scout underwater minefields and possibly disarm naval mines. They may reduce, but not eliminate, the need for specialized diver teams to reconnoitre, identify, and demine potential landing beaches for amphibious warfare operations.
Many countries have developed and deployed UUVs for their naval operations. Some examples include the US Navy's REMUS UUVs, which are used for mine countermeasures and oceanographic research, and the British Royal Navy's REMUS 600 UUV, which is used for mine clearance and surveillance. Underwater military drones are becoming increasingly sophisticated and capable, with advances in technology enabling them to operate for longer periods, at greater depths, and with more advanced sensors and payloads. As such, they are likely to play an increasingly important role in future naval operations.
At the UDT event, emerging technology discussions cover IoT, 3D forward-looking sonars, communications and networked capabilities, data processing and modular design. As ever SMEs are key to innovation, and several Defence Engage members will be showcasing their solutions at the event, from the creators of sensors which can operate in challenging environments like Optics11, to the providers of networked digital battlespace capabilities for the underwater domain, like Forcys. Experts in sonar, acoustics, beacons and underwater navigation, Blueprint Subsea, shall be exhibiting, as will underwater photographic specialists Shark Marine Technologies and Rotinor, creators of compact submersible diving scooters.
Increased budgets and geopolitical tensions are set to propel innovation and speed up development in the underwater sea sector, offering opportunities for SMEs during a wrestle over undersea supremacy and defence of our critical infrastructure.
Check out the full agenda of UDT here.
Join us at UDT 2023: Register here.
Come and see the Defence Engage team on stand C52 and hear about our new marketplace for suppliers and buyers in defence!

UDT and Defence Engage are brought to you by Clarion Defence and Security, part of Clarion Events.