19 Dec 2022
£102 million for nuclear and hydrogen innovation in the UK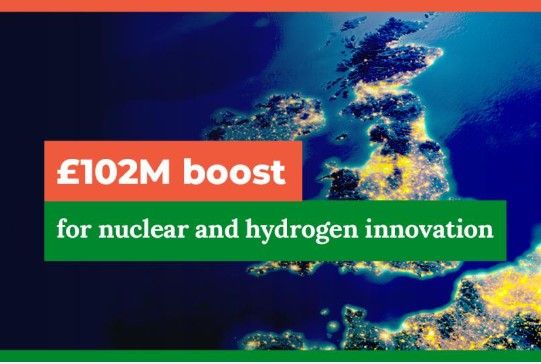 Government further commits to the future of nuclear power by investing £77 million to support nuclear fuel production and next generation advanced nuclear reactors in the UK
further £25 million funding announced for innovative new technologies that will generate clean hydrogen from biomass and waste
government also seeks views on proposals to make domestic gas boilers more efficient and be hydrogen-ready from 2026, to prepare for any future transition to using low-carbon hydrogen for heating
The UK government is announcing new funding to support clean energy production in the UK, following Russia's illegal invasion of Ukraine and the subsequent impact on global energy prices.
The funding includes £77 million to bolster nuclear fuel production and support the development of the next generation of advanced nuclear reactors, along with £25 million for technologies that can produce hydrogen from sustainable biomass and waste, while removing carbon dioxide from the atmosphere.
Click here to read the full press release.
Sign up to Defence Engage to connect with our growing community of Primes and SMEs in the defence sector. Also, see our Defence Contract Digest, where we provide weekly contract news from across the industry. Follow Defence Engage on LinkedIn for more industry trends, new SMEs and innovation.