06 Mar 2023
£3.1million of contracts to accelerate UK fusion industry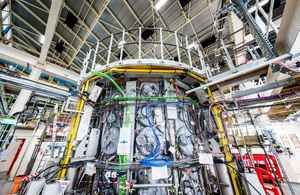 Eighteen organisations have secured contracts with the United Kingdom Atomic Energy Authority (UKAEA) to demonstrate how their innovative technologies and proposed solutions can help make fusion energy a commercial reality. The organisations will focus on overcoming specific technical and physical challenges.
The contracts – feasibility studies from £50,000 up to £200,000 – are funded by the UKAEA's 'Fusion Industry Programme' and awarded through the UK Government platform 'Small Business Research Initiative'. The latest contracts are the second part of the Fusion Industry Programme, following the first cycle of the Fusion Industry Programme in 2021.
The projects aim to tackle specific challenges linked to the commercialisation of fusion energy, from novel fusion materials and manufacturing techniques through to innovative heating and cooling systems, all needed for future fusion powerplants.
Tim Bestwick, UKAEA's Chief Technology Officer, said: "In the past 12 months we have seen significant advances both in the UK and globally that demonstrate the potential for fusion energy to be a safe, low-carbon and sustainable part of the world's future energy supply. However, there are a number of significant technical challenges to address for fusion energy to realise its potential. The Fusion Industry Programme is helping engage organisations and industrial partners to stimulate innovation and address these important challenges."
Click here to read more.
DISCOVER DEFENCE ENGAGE APPLY FOR A PROFILE DEFENCE CONTRACT DIGEST FOLLOW US ON LINKEDIN