20 Mar 2023
British-led design chosen for AUKUS submarine project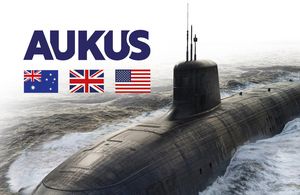 A new fleet of submarines will be built by the UK and Australia based on the UK's nuclear-powered submarine design.
UK's submarines will be in operation by the late 2030s following massive, trilateral building project which will create thousands of jobs in the UK.
Next stage of AUKUS submarine project announced by the Prime Minister, Australian Prime Minister Albanese and US President Biden in San Diego.
The first generation of AUKUS nuclear submarines will be built in the UK and Australia, based on the UK's world-leading submarine design, the Prime Minister has announced today alongside the leaders of Australia and the United States.
In September 2021 the UK, Australia and the United States of America announced an historic, trilateral endeavour to support Australia to acquire a conventionally-armed, nuclear-powered submarine or 'SSN' – a partnership known as AUKUS.
Following an 18-month scoping period to establish the optimal pathway to Australia acquiring this capability, a model has been chosen based on the UK's world-leading design and incorporating cutting-edge US submarine technology.
Australia and the UK will both build new submarines to this design, known as 'SSN-AUKUS', with construction of the UK's submarines taking place principally in Barrow-in-Furness. Australia will work over the next decade to build up its submarine industrial base, and will build its submarines in South Australia with some components manufactured in the UK.
The first UK submarines built to this design will be delivered in the late 2030s to replace the current Astute-Class vessels, and the first Australian submarines will follow in the early 2040s.
The SSN-AUKUS submarines will be the largest, most advanced and most powerful attack submarines ever operated by the Royal Navy, combining world-leading sensors, design and weaponry in one vessel.
Click here to read more.
DISCOVER DEFENCE ENGAGE APPLY FOR A PROFILE DEFENCE CONTRACT DIGEST FOLLOW US ON LINKEDIN