05 Jun 2023
Despite AUKUS pledges, Aussie defense spending drops $1.5 billion, report says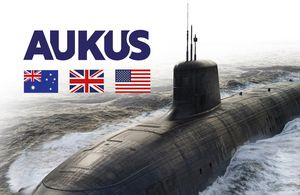 According to a recent analysis conducted by the Australian Strategic Policy Institute, Australia's military spending is projected to decline over the next two years, despite the ongoing discussions regarding the increase in defense budgets.
The AUKUS program will cost an estimated $368 billion AUD ($240 billion USD) and generate up to 20,000 jobs, the Labor government estimates. And the government says it plans to more broadly beef up the Australian Defense Force in both size and capability. "However," the ASPI report says, "the urgency of the demands upon Defence isn't reflected in its short-term funding."
In a recent statement, Andrew Hastie, the shadow defense minister, expressed concern over the Australian Labor party's decision to reduce defense funding by $1.5 billion (AUD). Hastie highlighted the current uncertain strategic circumstances, which he believes are the most challenging since the Second World War. He called on the Albanese Government to provide an explanation for the defense budget cuts, especially considering the Defense Strategic Review's warning about Australia's deteriorating strategic environment. The absence of any new allocation of funds for defense has raised questions and demands for clarification from the government.
DISCOVER DEFENCE ENGAGE APPLY FOR A PROFILE DEFENCE CONTRACT DIGEST FOLLOW US ON LINKEDIN