10 Apr 2023
First NATO defence innovation HQ opens in London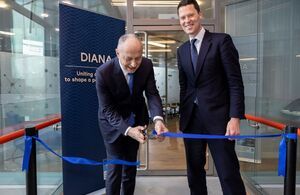 London hosts NATO Defence Innovation HQ in partnership with Estonia.
Opened by UK Defence Minister and NATO Deputy Secretary General.
Leading innovation across the NATO Alliance to deter and defend against future threats.
The first Regional Office of NATO's Defence Innovation Accelerator for the North Atlantic (DIANA) was opened in London today, with a further hub in Tallinn due to open later this year.
Located at the Imperial College London Innovation Hub (I-HUB) in the White City Innovation District, the regional office was opened by the UK Minister for Defence Procurement, Alex Chalk KC and the NATO Deputy Secretary General, Mircea Geoană on a visit to the site.
Delivering on the Prime Minister's priority to grow the economy, the DIANA programme aims to support the foundation, growth and success of start-ups working to drive innovation and forward-thinking in Defence. Bringing together industry, government and academia from across the Alliance, DIANA will help enable NATO Allies to develop and integrate advanced dual-use technologies to address critical defence and security challenges, at pace.
Essential to delivering the NATO 2030 vision, the programme will ensure the Alliance develops the defence capabilities needed to deter and defend against existing and future threats, enhancing security within the Alliance and beyond.
Read the full UK Government Press Release here.
DISCOVER DEFENCE ENGAGE APPLY FOR A PROFILE DEFENCE CONTRACT DIGEST FOLLOW US ON LINKEDIN