20 Mar 2023
Integrated Review Refresh 2023: Responding to a more contested and volatile world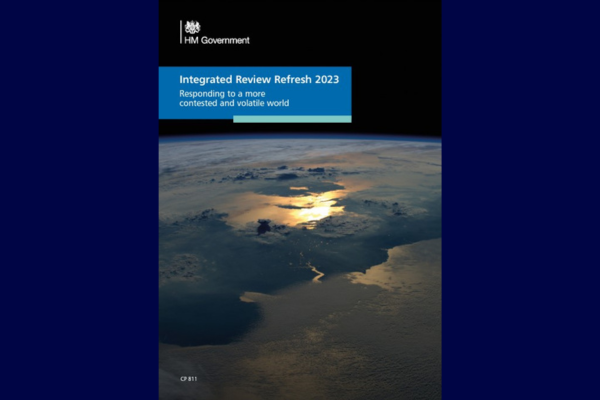 Defence Engage Summary
The tone of the Integrated Review Refresh 2023, is reflective of an 'evolution' in language which has taken place since the last IR (in 2021), which foreshadowed the intensification in 'systemic competition.' IR23 moves away from the somewhat neutral tone of words like 'competition', which is generally seen as natural and healthy in geopolitics, and towards the use of 'contested and volatile' which engenders a far more negative state of affairs. Despite this clear attempt to demonstrate the sobering realities of the world we are now living in, the spirit of IR23 is very positive in terms of the advancement of cooperation between allies. Key themes also include: 'galvanising the international community', the 'indo-pacific tilt', climate awareness, better relations with European allies and greater R&D collaboration. The priorities of IR23 are 'nuclear resilience' and boosting 'conventional stockpiles', whilst capitalising on the UK's unique strengths in emerging technology areas is cited frequently, especially with regard to science, technology and engineering.
Many analysts had criticised IR21 for only perceiving China as an economic competitor, where it has transpired that China is rapidly expanding its military and increasing the frequency of its threats to Taiwan. The PM noted that we are facing 'an international order more favourable to authoritarianism', suggesting a need to maintain and strengthen the liberal international consensus – an implication which foreshadows IR23's signature policy and budgetary focuses: increasing NATO target expenditure, supporting Ukraine, GCAP, AUKUS and ammunition stockpiling. The PM goes on to highlight the need for security beyond the traditional military realm, with a focus on energy security, economic stability and an attempt to maintain the benefits of globalisation, whilst protecting the country from ever-more pervasive economic shocks.
Extract
The 2021 Integrated Review (IR2021) provided a comprehensive articulation of the UK's national security and international policy in the context of a world moving towards greater competition and multipolarity. In the two years since its publication, that transition has happened more quickly and definitively than anticipated. The 2023 Integrated Review Refresh (IR2023) responds to a more contested and volatile world.
The broad direction set by IR2021 remains right, and IR2023 maintains significant continuity across most policy. But in a few areas, the UK's policy has evolved in the last two years, or needs to be updated to reflect key changes in the global context, including but not limited to Russia's invasion of Ukraine.
In this context, IR2023 sets out the four ways in which the UK will protect its core national interests – the sovereignty, security and prosperity of the British people – as well as its higher interest in an open and stable international order of enhanced cooperation and well-managed competition based on respect for the UN Charter and international law:
Shape the international environment. The UK will actively shape, balance, cooperate and compete to create the conditions, structures and incentives necessary for an open and stable international order and to protect global public goods.
Deter, defend and compete across all domains. We will strengthen our integrated approach to deterrence and defence, to counter both state threats and transnational security challenges. We will also work to uphold strategic stability, establishing new frameworks and building a new international security architecture to manage systemic competition and escalation in a multipolar environment.
Address vulnerabilities through resilience. We will develop the UK's approach to resilience, addressing the economic, societal, technological, environmental and infrastructural factors that leave the UK exposed to crises and hostile actors.
Generate strategic advantage. We will reinforce and extend IR2021's focus on strategic advantage – the UK's relative ability to achieve our objectives compared to our competitors. We will cultivate our national strengths and update our tools of statecraft to maintain the UK's freedom of action, freedom from coercion and our ability to cooperate with others.
Click here to view the full text and PDF
DISCOVER DEFENCE ENGAGE APPLY FOR A PROFILE DEFENCE CONTRACT DIGEST FOLLOW US ON LINKEDIN