20 Feb 2023
Levelling-up boost for UK space sector with new growth funding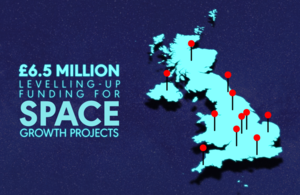 The £6.5 million includes support for high impact, locally led schemes and space cluster development managers to help the space sector grow across England, Wales, Scotland and Northern Ireland.
One project will explore the potential for a space observatory and planetarium to be established in Snowdonia, taking advantage of the area being part of the most extensive dark skies reserve in the UK.
Another will look at how space technology could be used to tackle water leakage and monitor coastal erosion and stability in Cornwall.
The projects will harness space-enabled technology to address local priorities, such as using Earth Observation data to improve local public services and help innovative engineering companies access the UK's growing space markets.
Secretary of State for the Department for Science, Innovation and Technology, Michelle Donelan, said:
These projects will tap into the wealth of talent found in places like Cornwall and the east Midlands, as well as across Scotland, Wales and Northern Ireland, while using space and satellite technology to support local communities.
This funding will help link local clusters to valuable networks of innovators and investors, showcasing the strengths of the UK space sector to international investors and levelling up the economy.
The projects are focused on piloting local activity that could be scaled up and rolled out nationally and are being supported by the UK Space Agency's delivery partner the Satellite Applications Catapult.
Read the full press release here.
DISCOVER DEFENCE ENGAGE APPLY FOR A PROFILE DEFENCE CONTRACT DIGEST FOLLOW US ON LINKEDIN