24 Apr 2023
Major funding boost to progress future fighter jet programme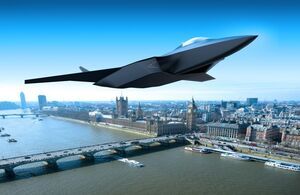 A £656 million funding allocation will propel the sixth-generation fighter jet programme into the next phase, focusing on technology.
More than £650 million allocated to continue development of next generation fighter jet
Programme to support thousands of jobs across the country as it expands with GCAP partners Japan and Italy
UK focused on aircraft's 2035 in-service date to ensure the UK Armed Forces remain a step ahead of adversaries
As part of the Global Combat Air Programme (GCAP) – a trilateral collaboration with Japan and Italy to develop the next generation of fighter jet - the Ministry of Defence (MOD) has awarded the major contract to BAE Systems on behalf of British defence firms; Leonardo UK, MBDA UK and Rolls-Royce, to progress the design and development of this aircraft. Tempest is the UK name for the aircraft in development under GCAP.
The contract will build on the ground-breaking science, research and engineering already completed. The UK MOD and our industry partners are working in close collaboration with GCAP partners Japan and Italy. Together, the partners will now progress the maturity of more than 60 cutting-edge technology demonstrations, digital concepts and new technologies.
These are critical to the UK's sovereign defence capability and will help shape the final requirements with Japan and Italy for the combat air platform, due to enter service by 2035.
The aircraft is designed to be an innovative stealth fighter with supersonic capability and equipped with cutting edge technologies, including state-of-the-art sensing and protection capabilities. This will make the aircraft one of the world's most advanced, interoperable, adaptable and connected fighter jets in service globally.
Defence Secretary, Ben Wallace said:
The next tranche of funding for future combat air will help fuse the combined technologies and expertise we have with our international partners – both in Europe and the Pacific - to deliver this world-leading fighter jet by 2035, protecting our skies for decades to come.
This investment forms part of more than £2 billion worth of UK Government spending on the project up to May 2025, announced in the 2021 Defence Command Paper.
Read more here.
DISCOVER DEFENCE ENGAGE APPLY FOR A PROFILE DEFENCE CONTRACT DIGEST FOLLOW US ON LINKEDIN