16 Oct 2023
Major new package of support for Ukraine's counter-offensive announced by Defence Secretary Grant Shapps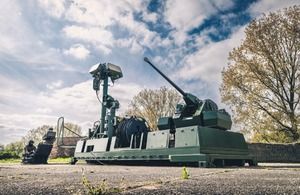 A new package of military support for Ukraine, worth more than £100m, will be announced by the Defence Secretary today. It will help its armed forces clear minefields, maintain its vehicles, and shore up defensive fortifications to protect critical national infrastructure.
The support package, which will be provided using money from the International Fund for Ukraine (IFU), will be jointly announced today by the Defence Secretary and his counterparts from the IFU partner nations at a meeting of the Ukraine Defence Contact Group at NATO headquarters in Brussels.
It comes as the final contract from the previously announced IFU package of air defence capability was signed, which will see more than £70m of capabilities provided to Ukraine – including the MSI-DS Terrahawk Paladin, a platform which can track and destroy drones and protect critical national infrastructure.
The UK and Denmark launched the IFU in 2022 and the UK engages closely with Ukraine to procure capability that best meets the needs of its armed forces. Since then, five other nations have contributed to the IFU, demonstrating the unity and resolve of allies and partners in supporting Ukraine.