12 Jun 2023
PM urges tech leaders to grasp generational opportunities and challenges of AI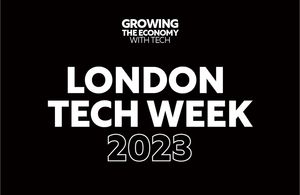 The UK will be "the best place in the world to start, grow and invest in tech businesses", Prime Minister pledges today, as key driver of economic growth
Addressing tech leaders at the opening of London Tech Week, he will set out challenges and opportunities of AI ahead of global summit hosted by the UK this autumn
This kicks off week of cross-Government activity to showcase and support UK's thriving tech sector
The UK must act quickly if we want to retain our position as one of the world's tech capitals, Prime Minister Rishi Sunak will tell tech leaders today [Monday 12 June].
Speaking at the launch of the tenth London Tech Week, the Prime Minister will argue that as the "tectonic plates of technology are shifting", the UK must harness innovation to become the best place for tech businesses to invest and grow, in turn growing the economy and creating jobs.
With world-leading universities, more tech unicorns than France and Germany combined, and one of the most digitally literate societies in the world, the Prime Minister will make clear that the UK is starting from a position of strength, outlining how Government will work with businesses to capitalise on the opportunities presented by transformative technologies, such as AI.
From building one of the most pro-investment tax regimes, to committing almost a fifth of our entire capital budget to R&D – the highest level this country has ever seen – and investing record sums in building our quantum capability, the Prime Minister will underline his commitment to creating the right conditions for innovators to thrive.