03 Apr 2023
Size & Health of the UK Space Industry 2022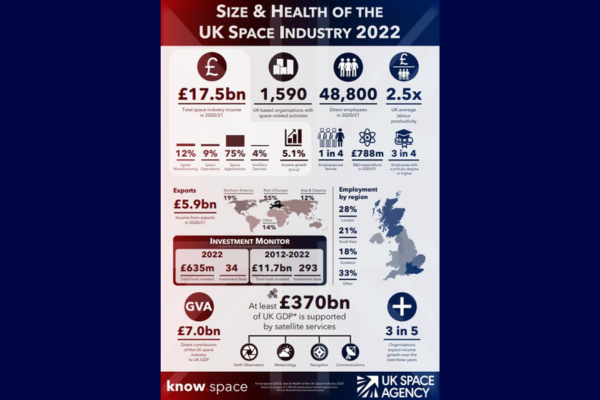 The UK Space Agency aims to catalyse investment to maximise the space sector's long-term growth, deliver missions and capabilities to meet national needs and help enhance our understanding of the Universe, and champion space.[7] To guide its work, the UK Space Agency needs a means to monitor the health of the industry and to track the effectiveness of its activities and strategy.
Undertaken since 2010, the Size & Health of the UK Space Industry is a long-running study series that quantifies and tracks changes in the UK space industry. It measures if the industry is growing, and highlights the nature and source of the growth, including trends within sub-sectors, sources of income, and future expectations. It is the principal source of information on the UK space industry, and a key resource for the Government's evidence-based strategy, policy design and decision-making – but also for the wider industry (e.g. strategy, business cases, investor decks, scientific impact).
The UK Space Agency commissioned know.space – the specialist space economics consultancy – to conduct the latest edition. In collaboration with the UK Space Agency, improvements were made to study design (expanded analytical scope, enhanced trend analysis, innovative data collection, and record survey participation) whilst maintaining comparability with previous editions.
This edition of the 'Size & Health' covers a particularly challenging time. The period of analysis (2020/21) was marked by the COVID-19 pandemic (with the first government lockdown starting in late-March 2020 and varying degrees of movement restrictions until mid-July 2021), and survey research was undertaken during the ongoing cost-of-living crisis (energy, inflation).
This study offers valuable findings, highlighting the resiliency of the industry in the face of successive lockdowns and disrupted operations, as well as offering an insight into survey respondents' outlook for the next 3 years. This 2022 report summarises the findings for the 2020/21 financial year (FY).
Given the tumultuous economic circumstances since 2020, the 2021/22 in-year estimate has been conservatively forecasted using a combination of published accounts (where already filed), survey responses (factoring in respondents' confidence in their estimate) and a three-year historical average.
DISCOVER DEFENCE ENGAGE APPLY FOR A PROFILE DEFENCE CONTRACT DIGEST FOLLOW US ON LINKEDIN