17 Jul 2023
Turkey backs Sweden's NATO membership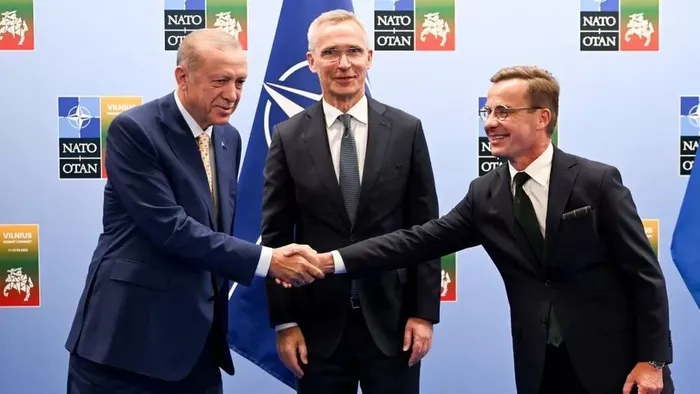 Turkish President Recep Tayyip Erdogan has agreed to support Sweden's bid to join NATO, according to the military alliance's chief, Jens Stoltenberg. Erdogan will forward Sweden's application to the Turkish parliament for ratification, after months of Turkey blocking the application due to accusations that Sweden was hosting Kurdish militants.
The announcement was made following talks between Erdogan and Swedish Prime Minister Ulf Kristersson in Vilnius, Lithuania. US President Joe Biden welcomed Erdogan's commitment to swift ratification and expressed readiness to work with Turkey on enhancing defense and deterrence in the Euro-Atlantic area. Germany's Foreign Minister Annalena Baerbock and British Prime Minister Rishi Sunak also welcomed Sweden's potential NATO membership.
However, it should be noted that a clear date for Sweden's membership into NATO has not been given yet, as it depends on the Turkish parliament's approval. Sweden and Finland, both considered militarily neutral for a long time, had expressed their intention to join NATO in May the year before, partly in response to Russia's invasion of Ukraine. Finland formally joined the alliance in April before Sweden's recent progress.