30 Oct 2023
UK agrees historic manned space mission with Axiom Space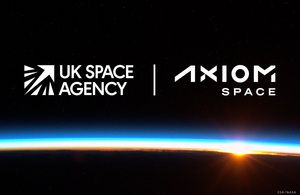 The agreement between the UK Space Agency and Axiom Space sets out plans for the 2 organisations to work together to pursue a commercially sponsored, UK astronaut mission. On this future flight, the UK astronauts would launch to space, spending up to two weeks on orbit to carry out scientific research, demonstrate new technologies, and participate in education and outreach activities. The mission would build on the UK government's National Space Strategy and the UK Science and Technology Framework, which highlights the important contribution of international relationships to the UK's capabilities and identifies five critical technologies; Artificial Intelligence, engineering biology, future telecommunications, semiconductors and quantum technologies.
George Freeman MP, Minister of State at the Department for Science, Innovation and Technology, said:
The prospect of a historic UK mission with Axiom Space has the potential to inspire a whole new generation to reach for the stars, while supporting our efforts to build one of the most innovative and attractive space economies in the world, so I look forward to seeing the next stage of this exploratory work develop. We want to put the UK at the forefront of the global race for commercial space investment, continue to support scientists and engineers to test new technologies and carry out important research and, ultimately, bring the benefits back to people and businesses across the country.