13 Feb 2023
UK Government publishes Cloud Strategic Roadmap for defence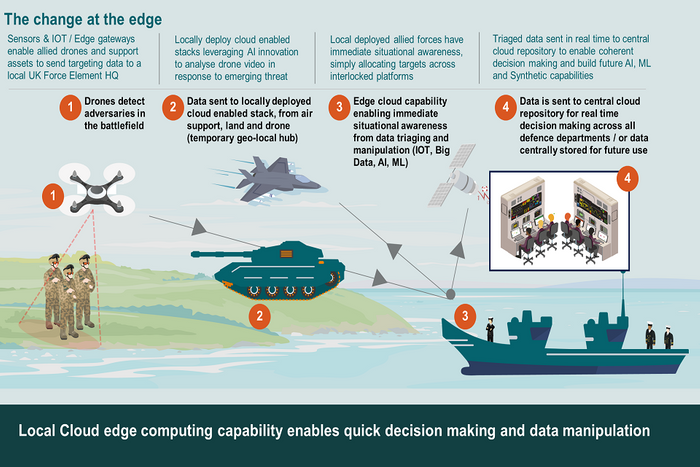 Purpose
The purpose of this Cloud Strategic Roadmap for Defence is to state the vision and transformative change required for Defence to consume more world-class Cloud capabilities. Cloud is the key enabler for the realisation of the Digital Backbone and Data Strategy for Defence. Establishing the right cloud platforms will drastically improve the quality of the user experience both within the enterprise and at the tactical edge, accelerating the exploitation of data and providing more sophisticated ways of delivering our Defence products.
This roadmap articulates the strategic outcomes, the tightly coupled dependencies and the incremental steps to accelerate delivery and exploitation of hyperscale cloud services across Defence. The roadmap aligns the Ways with the Means required to deliver Defence's cloud ambitions, with a focus on consumption of hyperscale Platform as a Service (PaaS) and Infrastructure as a Service (IaaS) offerings, supplemented by MODCloud Software as a Service (SaaS) services. Defence needs to invest in a radical cultural shift, process, and cloud skills, to transform and compete in the digital age and align with our wider Digital Strategy for Defence.
Map to the Digital Strategies
The Cloud Strategic Roadmap for Defence should be read alongside the other Defence Strategies, including the Digital Strategy, Data Strategy, Cyber Resilience Strategy, Technology Strategy, and any relevant forthcoming Digital Function sub-strategies.
Digital Strategy for Defence: The Digital Strategy for Defence outlines how the Defence Digital Function will transform by delivering a secure, singular, modern Digital Backbone. Cloud is the underpinning technology for it.
Data Strategy: The Data Strategy states the data vision and transformative changes required for defence to leverage data as a strategic asset.
Cyber Resilience Strategy: The Cyber Resilience Strategy states the principles and shift required to build a Cyber Resilient Defence.
Technology Strategy for Defence: The Technology Strategy sets the pan-Defence digital technology vision by directing the transformative changes that will realise Defence's Digital Strategy, and to deliver the Digital Backbone.
Cloud Strategic Roadmap for Defence: This document serves to outline the journey to adopt more modern Cloud platforms and realise the Digital Backbone.
Our Cloud vision and Strategic Outcomes by 2025 are clearly defined
Vision: We will exploit world-class cloud capabilities at all classifications, predicated on Cloud first as a principle.
Strategic Outcomes by 2025: the Future of Cloud across Defence:
Delivering a secure and scalable platform to gain strategic military advantage
Driving innovation through evergreen technologies by default
Driving exploitation to realise benefits around efficiency and economic value
Empowering digital age warfighters by maximising the survivability and security of innovative, world-class digital capabilities
Realising greater benefits by integrating with partners within the cloud ecosystem
Read the full press release here.