15 May 2023
UK military training estate to benefit from new £560 million contract sustaining 1,300 UK jobs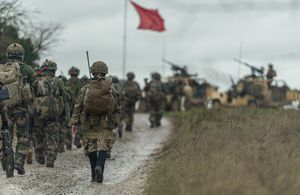 A £560 million contract to manage the UK land on which thousands of Armed Forces personnel train, has been awarded to Landmarc Support Services by the Defence Infrastructure Organisation (DIO)
£560 million contract to deliver management of facilities, rural estates and operational services.
1,308 jobs supported across the entirety of the UK Defence Training Estate, delivering on the Prime Minister's priorities.
UK training estate plays a crucial role in preparing troops for operations across the globe, including supporting the UK-based training of thousands of Ukrainian volunteers.
Delivering facilities management, rural estate management and operational services across the 156,000 hectares which make up the UK Defence Training Estate, around 1,300 UK jobs will be sustained by the replacement contract, delivering on the Prime Minister's priority to grow the economy and support jobs across the country.
Comprising 16 major armed forces training areas and 104 minor training areas including ranges and camps, the UK Defence training estate includes sites from Salisbury Plain in the South West to Barry Buddon in Scotland as well as many more. Through the new contract, Landmarc which is a joint venture between Mitie and Amentum will provide UK and visiting Armed Forces with a safe and secure place to live, work and train, while maintaining and improving the land, buildings and facilities that they use.
The contract will also deliver vital services to training troops, including providing them with around four million meals a year and approximately one million bed spaces.
Innovative, more responsive, and flexible services will be introduced for personnel using the training estate, resulting in facilities that will be more agile to meet the changing needs of the Armed Forces.
DISCOVER DEFENCE ENGAGE APPLY FOR A PROFILE DEFENCE CONTRACT DIGEST FOLLOW US ON LINKEDIN