18 Jul 2023
UK MOD Defence Command Paper 2023 - Key takeaways for industry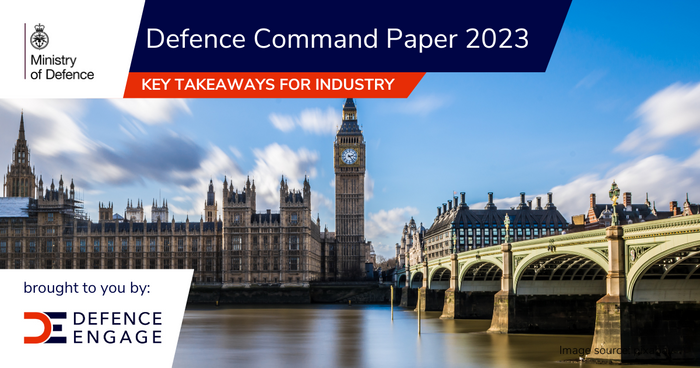 The UK will today release its refreshed Defence Command Paper (DCP), setting out its key ambitions to shake-up the relationships, organisation and priorities of its forces in coming years. This comes a week after a the House of Commons Defence Committee released its damning report on defence procurement and in the wake of Defence Secretary Ben Wallace's resignation announcement.
Suppliers and buyers will benefit from great opportunities in the latest iteration if the DCP. From funding commitments to renewed approaches signaling major changes for defence organisations and partners, including the MOD, DE&S, DASA, DSTL and beyond. Knowledge of the re-clarified and refreshed strategic direction of the primary buyer in the market will be crucial for SMEs and suppliers looking to provide the key capabilities needed for the defence industry. Defence Engage has identified the takeaways for industry:
Science, Innovation and Technology
Campaigning and Global Competition
Strategic Resilience
Industry
Productivity
Deterrence and Defence
Strength Through Partnerships
Headline Announcements
£2.5 billion additional investment in our stockpiles to improve fighting readiness

A UK Global Response Force will enable forces to 'get there first'

Greater focus on science and technology to gain the edge on the battlefield
Science, Innovation and Technology
🔬 Invest more than £6.6 billion in advanced R&D
🔬 Strengthen engagement with academia and industry to nurture a collaborative ecosystem
🔬 Acknowledge the advantages of low-cost, of-the-shelf solutions, widely used in Ukraine
🔬 Support the defence AI Centre to ensure it can rapidly exploit opportunities
We are enabling a culture of innovation across defence, bringing those R&D breakthroughs (in quantum, data and AI), to the front line - Defence Secretary, Ben Wallace MP in his speech to the House of Commons.
Industry
🏭 Move beyond the traditional customer-supplier relationship by developing long-term alignment as a joint endeavour
🏭 Kickstart conversations about industrial capability, capacity and sustainment. Being clearer about sovereign requirements
I am pushing the MOD to form a closer alliance with our industrial partners. Ukraine reminds us that time waits for no one, instead of holding out for the 100% solution that is obsolete by the time its launched, 80% is often good enough - Defence Secretary, Ben Wallace MP in his speech to the House of Commons.
Productivity
📈 Increasing the scale and pace of delivery to maintain competitive edge. A strategy-led, threat-informed, outcome-focused, data-enabled approach
📈 The Integration Design Authority (IDA) will progress the ambition for multi-domain integration via a software-defined approach, valuing a system-of-systems approach
We are emphasising an ethos focus, ruthlessly on delivery. We need to make major changes to the machinery of the department and its methods, from the front line to the back office - Defence Secretary, Ben Wallace MP in his speech to the House of Commons.
Deterrence and Defence
⛔ An additional £2.5 billion in munitions and stockpiles alongside readiness and resilience infrastructure for the UK's munitions
⛔ Continue being a leading supplier of arms to Ukraine, with 360,000 rounds of munitions, £2.3 billion, heavy artillery, missiles and strategic UAS systems.
Following in Ukraine's footsteps, we are increasingly sourcing £100 solutions which can stop £100 million threats in their tracks. Winning the kinetic and economic exchange of modern warfare - Defence Secretary, Ben Wallace MP in his speech to the House of Commons.
Campaigning and Global Competition
🌍 The Global Response Force will bring together forces from multiple domains including Cyber and Space, to ensure fast response to global crises. Helping to deter adversaries and embolden allies
🌍 Continue to invest in Global Hubs, ensuring the ability of the armed forces to project power globally, assuring partners and nurture alliances
The indivisibility of operational theatres in today's world, means we must be constantly ready to respond globally, to support our allies - Defence Secretary, Ben Wallace MP in his speech to the House of Commons.
Strength through Partnerships
🤝 GCAP: Global Combat Air Programme, in alliance with Italy and Japan
🤝 AUKUS: The US, Australia and UK initiative to provide Australia with nuclear powered, conventionally armed submarines
🤝 Building and supporting cooperation between NATO and the EU
🤝 UK Carrier Strike Group 2025 will support and be supported by global and regional allies
In future we will be allied by design and national by exception. Our support for NATO will remain iron-clad, but we will continue to prioritise our core relationships and invest with deepening relationships with our new partners - Defence Secretary, Ben Wallace MP in his speech to the House of Commons.
Strategic Resilience
💪 Step up efforts to develop integrated Air and Missile defence capabilities and approaches
💪 Continue to invest in cutting-edge technologies such as Sky Sabre, missile detection systems and interception technologies
Resources:
Press Release: Refreshed Defence Command Paper sets out future for Armed Forces
Official Document: Defence Command Paper 2023