12 Jun 2023
UK and US reach commitment in principle over 'data bridge'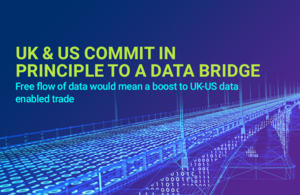 The UK and US have committed in principle to facilitate the free flow of personal data between the UK and the United States through a new 'data bridge'

in 2021, the UK exported more than £79 million of data-enabled services to the US. A data bridge would speed up processes for businesses, reduce costs, and increase opportunity by making it easier for British business to operate and trade internationally

the announcement coincides with the Prime Minister's visit to the United States, where wider discussions on partnering on an inclusive and responsible digital transformation package were announced
The UK and the United States have reached a commitment in principle to establish the UK Extension to the Data Privacy Framework, which would see the creation of a new 'data bridge' between the 2 countries. US companies who are approved to join the framework, would be able to receive UK personal data under the new data bridge.
International data transfers are central to modern day business transactions, and the United States is one of the UK's leading trading partners in data-enabled exports. In 2021, 93% of the UK's services exports were data-enabled, and the UK exported more than £79 billion of these services (about 30% of the UK's total data-enabled services exports) to the US. Despite this relationship, burdensome red tape is an inescapable part of the current arrangements. Most UK businesses who want to send personal data to a service provider or company in the United States must have costly contract clauses in place to ensure protection and privacy standards are maintained. A data bridge would remove that burden, speeding up processes for businesses, reducing costs, and increasing opportunity by making it easier for British businesses to operate and trade internationally.
The result of 2 years of technical discussions between the UK and the United States, this data bridge (if finalised) would see both sides of the Atlantic realising the increased benefits of data-enabled trade, stimulating economic growth across the 2 regions, and encouraging more businesses to operate on a global scale.