28 Nov 2022
UK secures £1.84 billion investment for ESA programmes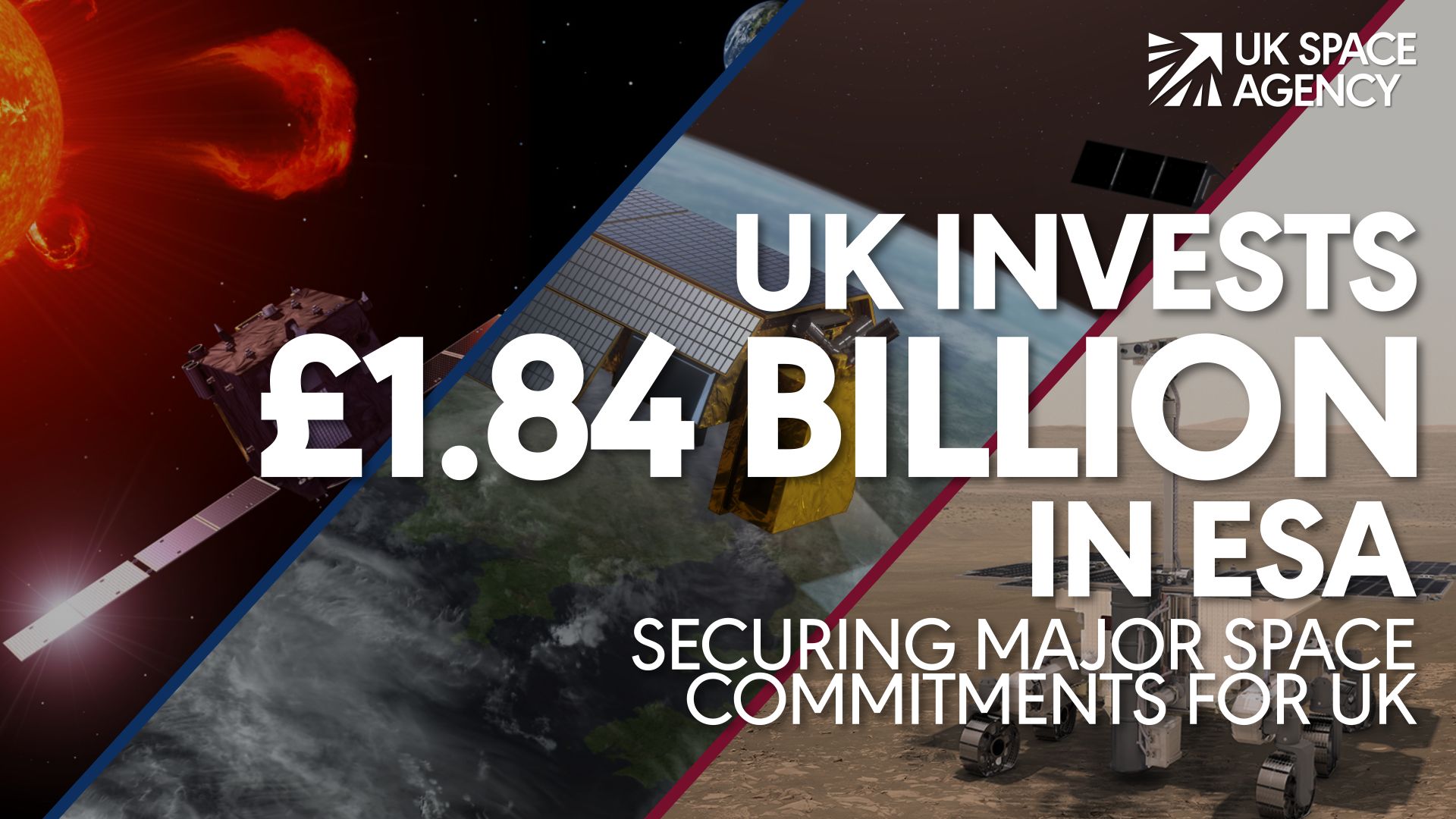 UK government commits £1.84 billion for important space programmes at this year's European Space Agency Council of Ministers meeting, held in Paris
the investment will cover a range of programmes from space sustainability to supporting the UK-built Rosalind Franklin Mars Rover
up to £200 million has also been committed to support the Earth observation sector as the EU continues to delay association to the Copernicus programme
Science, Research & Innovation Minister George Freeman, who led the successful negotiations in Paris with the UK Space Agency, has secured record commitments to grow the UK space sector and deliver on National Space Strategy ambitions, an increase on previous investments made in 2019.
The landmark deal includes:
important UK investment of £315 million in Earth observation and climate programmes: a 45% increase, deploying funds set aside for Copernicus participation to support the sector while EU programme association continues to face delays
ESA commitment to the UK-built Rosalind Franklin Mars Rover, which is set to launch to Mars in 2028, with UK industry set to play a leading role in developing a new landing platform
UK leadership in space sustainability via satellite management, maintenance and retrieval to support UK ambitions to lead in global space sustainability regulation and innovation
leading UK involvement in commercially focused programmes, including communications and navigation, driving further innovation in the satellite industry
UK leadership in the Vigil space weather mission, which will travel to a point in deep space known as L5 and give advance warning of dangerous solar storms, enhancing and securing observational capabilities, while supporting expertise such as that delivered by the UK Met Office's Space Weather Operations Centre
enabling the UK to set the standards for satellite climate measurements, with funding secured for further development of the TRUTHS mission, which was first proposed by scientists at the National Physical Laboratory to deliver a 10x increase in the accuracy of climate measurements
As a founding member of ESA, which is independent of the EU, the UK's space and commercial satellite sector will play a leading role in future international missions and innovative commercial programmes. There are over 47,000 jobs in the UK space sector, which generates an estimated £16.5 billion every year.
Satellites provide vital insight into the climate and our environment, and the UK committed in the National Space Strategy to remaining at the forefront of Earth observation technology. New investments will allow the UK to work with ESA to use space to fight climate change and deliver programmes that support our national interest.