Achilles System-on-Module based on Arria® 10 SoC FPGA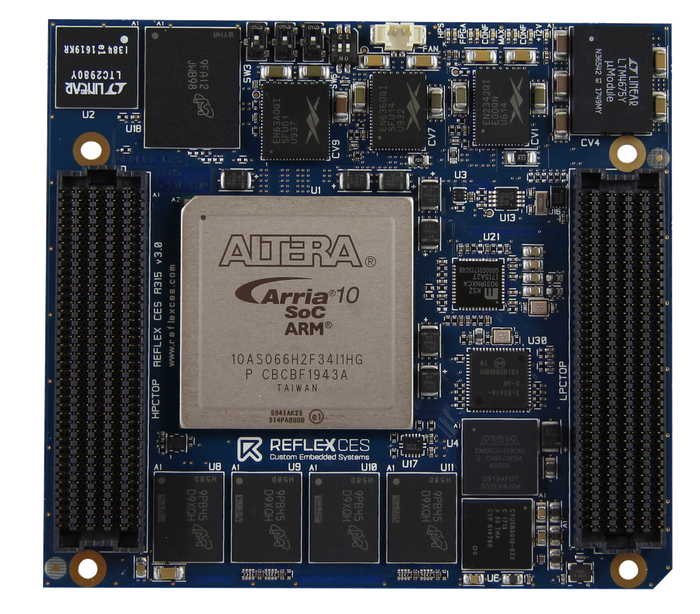 The Arria® 10 SoC som is based on the Intel® Arria® 10 SoC FPGA, and is available in three different versions according to your FPGA, memory or connectors needs.
Featuring an ARM dual-core Cortex-A9 MPCore and up to 660KLEs of advanced low-power FPGA logic elements, the Arria® 10 SoC combines the flexibility and ease of programming of a CPU with the configurability and parallel processing power of an FPGA.
Its small size and its strong FPGA makes it perfectly suitable for embedded and industrial markets.
Thanks to a System-on-chip (SoC) (an integrated circuit inside the FPGA, most often a CPU processor (central processing unit)), the FPGA has a better control on the board.
The target markets are as wide as Automotive, Video Broadcast, Machine and Intelligent Vision, Industrial, Military, Test & Measurement and Medical.
The Arria ® 10 SoC som is shipped alone.
This System On Module is also available in a Development Kit : The Achilles DevKit. This Arria ® 10 SoC development kit will provide you schematics, reference designs and starter board.
We also offer a PCIe Carrier Board as an optional extra product compatible with any of REFLEX CES Arria® 10 SoC SOM's, or can propose the design of a custom Carrier Board.
Categories
Electronics
Engineering
Mechanical
Engineering
Maintenance