Communications Simulation Range (ComSim)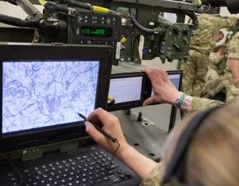 The products are scalable from a simple 4 port attenuation matrix to a fully immersive 17 port collective training solution.
ComSim replaces the 'live' RF link with physical links controlled by PC software. An operator or instructor controls the RF environment by either automatically or manually setting the attenuation level between individual radios. The Drumgrange developed terrain based software adjusts the attenuation levels by simulating relevant degradation in the quality of communications depending on range, weather conditions and terrain types.
Drumgrange can provide a highly versatile, bespoke communications training solution that allows for safe RF training in live, virtual or constructive environments across HF, VHF, UHF (L and S Band) frequency ranges up to 2.5GHz.
Categories
Communications
Electronics
Land Platforms
Training & Simulation