DLS-100™ Midband UAV Datalink and GPS System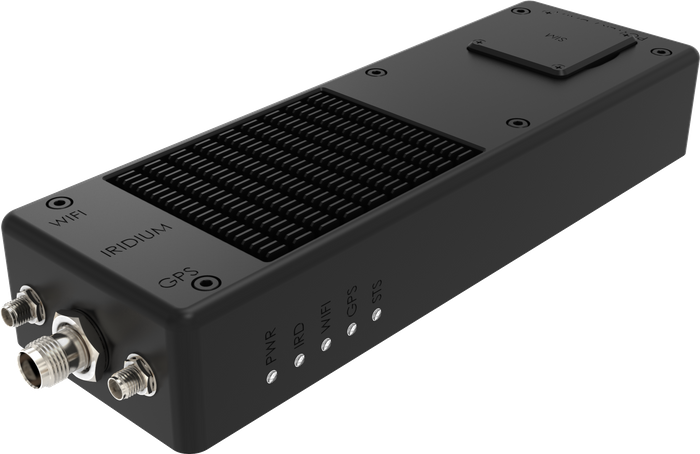 The ruggedized and IP67 compliant modem enables 22 Kbps uplink and 88 Kbps downlink speeds. Designed for use with unmanned aircraft systems (UAS), the cost-effective Iridium Certus modem allows for pole-to-pole connectivity around the globe with 99.9% reliability and stunningly low latency.
The modem is compatible with commercial and DoD SIM cards and also features remote management functionality through web or software API as needed.
Capabilities included:
Beyond Visual Line of Sight (BVLOS) Comms.
Real-Time UAS Command and Control (C2)
UAS and Payload Health Monitoring
Real-Time Flight Data Monitoring (FDM)
Global Network-based Remote ID
Flight Data Acquisition
SKYTRAC's UAS Satcom solutions utilize the world's only truly global satellite network, providing operators with low-latency
broadband connectivity no matter the location. This reliability allows mission-critical operations for UAS through Iridium Certus,
providing immense cost saving benefits over comparable GEO satellite networks. Gain leading-edge, high throughout Satcom.
SKYTRAC has over 7,500 users around the globe on all seven continents and ensures long-term support to all customers and
partners. Our AS9100D designation ensures leading global brands can trust our systems to perform reliably. In addition, we have
cultivated strong partnerships with major OEMs across the globe, proving advanced capabilities and integrability.
SKYTRAC serves the largest organizations in multiple industry verticals. With 7,500+ global users on all seven continents, we ensure our products and services are highly reliable and are trusted by those that rely on us for mission-critical applications.
Categories
Fixed Wing
Helicopters
Rotary Wing
Communication systems
Satellite Communication
Satellite Antennas
Satellite Terminals
Fixed Wing
Rockets
Rotor Wing
Aircraft
Components & systems
Drones