Injection Moulded Thermoplastics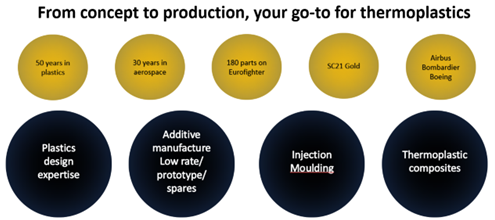 Denroy's key capabilities and differentiators are linked to our knowledge and expertise in working with high-performance engineering polymers, the strongest and stiffest of which is PEEK, due to its high Tg & melt temperatures, which gives excellent operational properties at high temperature. Mechanical properties can be further improved with use of fillers eg. glass fibres, carbon fibres etc. These materials can be incredibly difficult to use, but Denroy's skilled workforce produce thousands of these parts annually.
High-performance engineering grades of polymers can offer superb chemical resistance and improved performance even at elevated temperatures, along with strength and stiffness comparable to Aluminium and in some cases Titanium. The manufacturing cycle time for the production of components can be in seconds/minutes, and hybrid moulding allows areas of increased strength or stiffness when necessary.
In summary, Denroy is one of the world's leading innovators in the design and manufacture of engineered polymer components and solutions. We supply high performance thermoplastics to OEMs and Tier 1 civil and defence customers, and we are very keen to develop both new and existing relationships. We hold multiple accreditations including SC21 Gold (for 3 consecutive years), EFQM - 6 star status, are registered with JOSCAR and hold Cyber Essentials Plus which demonstrates our commitment to cyber security, along with many company specific qualifications. We have been actively engaged on Aerospace and Defence projects for 30 years and feel that our expertise and experience makes us the ideal partner for future collaboration.
Categories
Air Platforms
Components
Space Platforms
Land Platforms
Composites
Bulkheads & skins
Furnishing & Fixings
Materials
Storage / Stowage
Doors/ Hatches
Empennage
Fuselage & Subcomponents
Nacelles & Pylon & Subcomponents
Strut/ Pylons
Subcomponents
Wing & Wing Subcomponents
Platforms
Unmanned & Autonomous
Launchers
Stowage/ cases
UKAS
AS/EN/JISQ 9100
EFQM Certification
ISO 13485
ISO 9001
NADCAP NDT
Cyber Essentials / Cyber Essentials PLUS
SC21 Bronze
SC21 OE
SC21 Silver
Other