Mil-spec and LEO ready Power Electronics / Servo Drives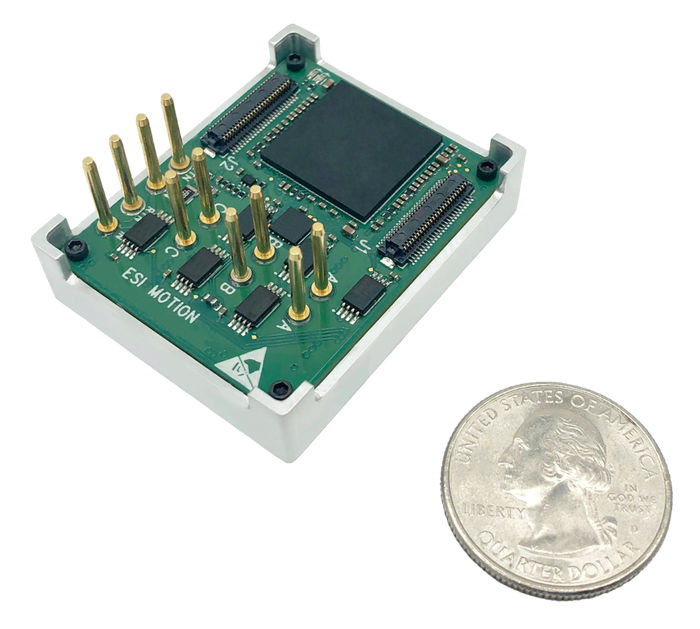 In addition to our range of market-leading drives, we are the exclusive UK distributor for ESI Motion's Mil-Spec ready range of high performance, compact, customisable drives.
Revolutionary efficiency for rugged applications. Small, light, scalable and incredibly powerful. Modular: Fielded on Space, Defence and Aerospace.
Our reliable modular servo drives and control systems, which are fielded on an extensive range of applications, come complete with full engineering services and documentation. Through Olsen and our partners, we provide a full service and work with you from start to finish on your project. The perfect partner for your motion solutions.
Extremely small size and low weight
Smallest product size: 45.5mm x 37mm x 10.7mm, Weight: 53.9g, Max output power: 7700W (80 VDC Bus, Motor Current 100 Amps peak-of-sin)
GaN components allows more to be done with less
Wide Operating Temperatures: o - 55°C to 100°C – Aerospace, o - 40°C to 85°C – Industrial, o - 30°C to 60°C – Commercial
40 kHz PWM Frequency Offered Standard (Consult factory for PWM frequencies up to 100 kHz)
Multiple Feedbacks Possible: Dual Resolver, Dual Quadrature Encoder, Dual BiSS-Co Dual HALL, Dual Sensorless
Communication Interfaces: CAN, RS-422
CANOpen and EtherCAT (Coming Soon)
MIL-STD-883 Temperature/Vibration Acceptance Available
Torque, Velocity, or Position control
Configurable, user-friendly GUI with Integrated Oscilloscope
5 Digital IO• Compliant to IPC-610 Class II (Class III available)
Chassis-cooled
I/O Board available
Customisable Solutions (Including Radiation Tolerant)
Categories
Air Platforms
Components
Displays & Controls
Electronics
Engineering
Space Platforms
Robotics & Exploration
Satellite Telecommunications
Land Platforms
Manufacturing Processes
Mechanical
Medical
Naval Platforms
Platform Interiors
Platform Structures
Platform Systems
Platforms
Propulsion
Training & Simulation
Aircraft
Components & systems
Drones
Robotics
Submersibles
Vehicles