SatRack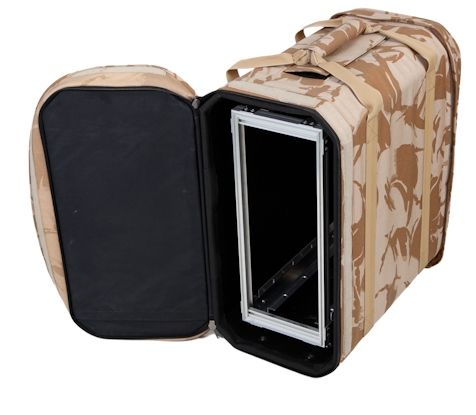 The 19-inch SatRack frame is supplied with stainless steel caged nuts for ease of securing equipment. Support shelves and equipment restraint systems are optional for additional fixing security.
The 19-inch SatRack frame is suspended in a lightweight 10mm rigid honeycombed polypropylene (Astroboard) outer shell with angled elastomeric anti-vibration mounts available in 2 shore hardnesses. These provide 40mm of "sway" space between the rack and outer shell and are available in various grades to give alternative suspension characteristics to suit different payloads.
The polypropylene shell is contained within a weatherproof, PU-backed, nylon fabric outer bag complete with tamper-proof, pad-lockable zipped panels allowing front and rear access. The outer bag can have an external label holder and several units can be stacked and secured with optional tensionable stack straps.
The zipped access panels are stiffened with puncture-resistant polypropylene and the rear panel can be fitted with a cable storage pouch.