SDL-350 - Broadband Aircraft Satcom and Onboard Server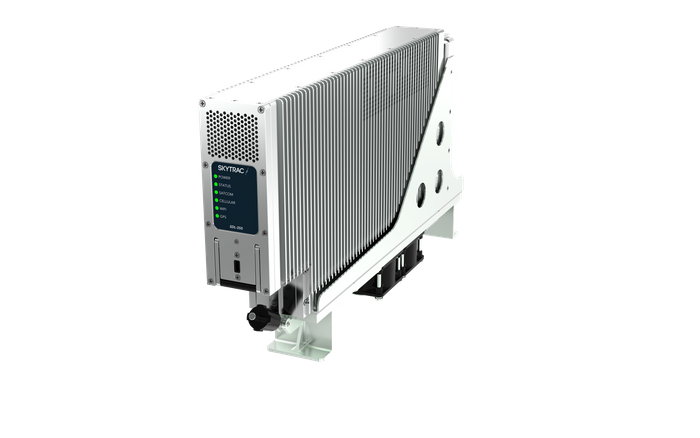 Our flagship satellite transceiver and on-board server harnesses the world's only true pole-to-pole satellite network, allowing operators 99.9% global uptime. This reliability allows mission-critical operations in EMS, SAR, offshore oil and gas, scientific exploration, military, and scheduled airline industries to perform when the mission gets tough.
SKYTRAC has over 7,500 users around the globe on all seven continents and ensures long-term support to all customers and partners. Our AS9100D designation ensures leading global brands can trust our systems to perform reliably. In addition, we have cultivated strong partnerships with major OEMs across the globe.
SKYTRAC'S 2-MCU Satellite Data Unit, the SDL-350, features bold new capabilities and a 150x multiplier in bandwidth set to enable the next generation of pole-to-pole connectivity. The SDL-350 facilitates live video streaming, telemedicine, in-flight entertainment (IFE), and advanced graphical weather to the
cockpit. Track fleet activity across the globe, automatically detect in-flight events, and capture robust data to feed your FOQA, MOQA, SMS and other operations systems.
Capabilities include:
Built-in Wi-Fi $ Cellular Connectivity
EO/IR Imaging
FDR Streaming
Flight Data Acquisition
Graphical Weather
IFE for VIP & Business Users
Image and Large File Transfer
Live Video Streaming
Real-Time Alerts
Telemedicine
VoIP Communications
Categories
Communication systems
Satellites
Satellite Communication
Satellite Antennas
Satellite Terminals
Medivac
Avionics
Emergency Vehicles
Fire Fighting
Fixed Wing
Rotor Wing