Servo Linear Actuators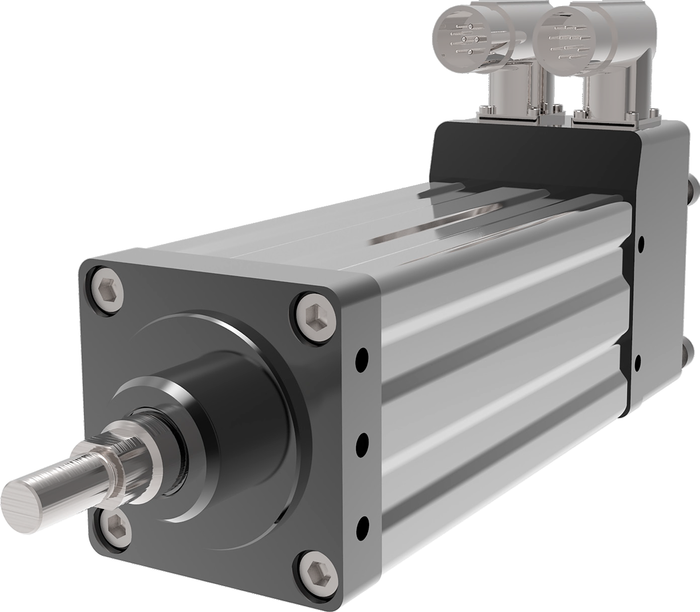 This range includes integrated servo motors housed around linear actuators. This unique design provides incredible power and efficiency in slimline packages that can fit directly into the footprints of hydraulic and pneumatic counterparts.
Alternative electric actuator ranges requiring a servo drive mounted on the actuator meant a bulky servo drive being fitted either to the top of the actuator or behind it, making the profile bulky or long.
By housing the motor around the actuator the slim, ergonomic design matches functionality with incredible performance. Efficient, reliable and powerful.
Our Servo Linear actuators / motors offer up to 15x the life and 3x the power density of conventional ball screw electric actuators. Integrating our unique inverted roller screw and T-LAM brushless servo motor technologies delivers the programmability and precision of electric actuators combined with the high power density and rugged durability of hydraulics, all in a compact package that is similar in form factor to a hydraulic cylinder.
Programmability and precision of electric actuators
Power density, durability and form factor of hydraulic actuators
Seamless integration with most leading global servo drive and robot controller brands
Environmentally sealed for use in harsh industrial environments
Standard configurations of the GTX models delivered in 20 business days
Rockwell Automation Encompass Partner Product
Categories
Air Platforms
Components
Electronics
Engineering
Space Platforms
Robotics & Exploration
Satellite Telecommunications
Land Platforms
Manufacturing Processes
Mechanical
Medical
Naval Platforms
Platform Interiors
Platform Structures
Platform Systems
Platforms
Propulsion
Training & Simulation
Unmanned & Autonomous
Aircraft
Components & systems
Drones
Robotics
Submersibles
Vehicles
UKAS
AS/EN/JISQ 9120
ISO 9001