Vrgineers Classroom Trainer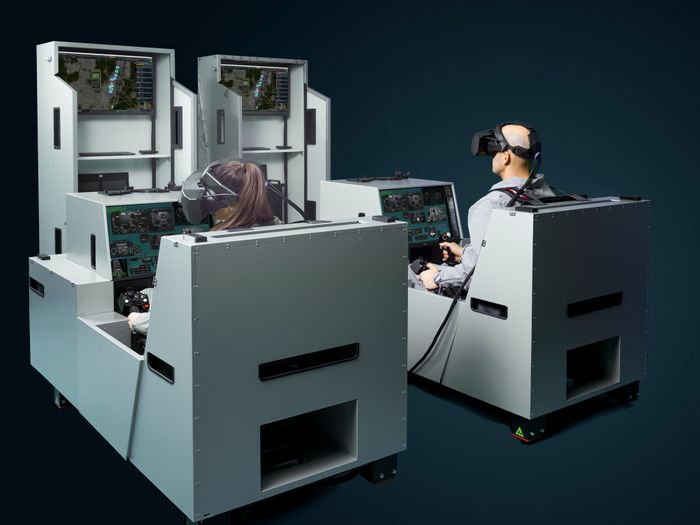 Meeting the high requirements for pilot training, the Vrgineers Classroom Trainer has been designed in cooperation with the U.S. Air Force and Royal Air Force.
The Classroom Trainer puts great emphasis on physical, functional, and psychological fidelity. The trainer dimensions proportionally correspond with an actual cockpit. The unit responds to the user's actions in realistic ways, such as simulation of engine failure. And furthermore, psychological fidelity elicits the same reactions and emotions as in a live situation thanks to the realistic visualization.
Unlimited Collective Training
The Classroom Trainer is designed to support unlimited numbers of connected pilots within a virtual environment. Develop and practice standard procedures and communication between units in combined missions at different locations across the globe. Take full advantage of joined training sessions between the land forces, air for- ces, and naval forces, and prepare troops to sharpen skills in formation flight, maneuvering, or pilot/ co-pilot communication with ATC.
The Future of Pilot Training is in Mixed Reality
The high level of fidelity is achieved by the new Vrgineer's Mixed Reality XTAL™ headset, which enables pilots to train in a completely immersive environment, interact physically with the instrumental panels with their own hands, and perform such tasks as exercising motor or coordination skills in real-time.
Debriefing and Analytics
The eye-tracking technology implemented in the XTAL™ headset decodes the eye position and shows the data on a heat map. The instructor station allows observing simultaneously the pilot's eye gaze and hand position while operating the aircraft.
Cost and Time Efficiency
The trainer is made from commercial off-the-shelf components (COTS), making it affordable and easy to maintain. The lifecycle of the simulator can be extended as key components are easily interchangeable while providing the highest level of immersive simulation.
Categories
Air Platforms
Training & Simulation